Special Edition:
Soups & Stews
January 2015
Volume 15, Issue #1
---

---


Soups & Stews Cookbook >

New Blog Digs >

Breakfast Cookbook >
---

3 cans whole tomatoes (28 oz. each), packed in liquid, drained, liquid reserved

2 TBS unsalted butter

1 C onion, finely chopped

2 TBS flour

2 C chicken stock or broth

1/4 C white wine

1 TBS tomato paste

1 TBS lemon juice

1 TBS sugar

3/4 C heavy cream

Salt to taste

Place oven rack in the upper third of oven. Preheat the oven to 450-degrees F. Line jelly roll pan or rimmed cookie sheet with foil. Put the tomatoes from two cans in a single layer on the pan or cookie sheet. Roast tomatoes for thirty minutes. Remove from sheet and peel off clinging foil; cut off browned parts. Cut each tomato in half. Melt butter in a heavy-bottomed pan. Over medium heat, sauté onion for about ten minutes, or until soft. Remove pan from heat and stir in flour. Return pan to medium heat and whisk in chicken stock or broth. Stir in two cups of the reserved tomato liquid, the wine, tomato paste, lemon juice, sugar and roasted tomatoes. Bring to a boil, reduce heat and simmer for about ten minutes to blend, stirring occasionally. Remove tomatoes from soup and blend in food processor with some of the liquid; puree. Set aside and puree the rest of the mixture; combine in a pot and season with salt. Warm the soup over low heat; add the cream and stir to blend. Serve hot. Tips: Save the tomatoes from the third can for another use. The soup can be made ahead of time and refrigerated for up to two days. Reheat over low heat; do not boil.
2 C mushrooms, sliced (fresh or canned)

4 TBS butter

1 small onion, chopped

1/4 C all-purpose flour

1 tsp. salt

1/4 tsp. white pepper

1-1/4 C water

1 can (10.75 oz.) condensed chicken broth

1 C half-and-half cream

1/4 tsp. fresh parsley, chopped
Slice enough mushrooms to make one cup; chop remaining mushrooms. Cook and stir sliced mushrooms in two tablespoons butter in a large skillet over low heat until mushrooms are golden brown. Remove mushrooms from skillet with a slotted spoon; set aside. Cook and stir chopped mushrooms in same skillet with the onion and remaining butter. Cook until onion is tender. Stir in the flour, salt and white pepper. Cook over low heat, stirring constantly, until mixture is smooth and bubbly. Remove from heat. Stir in the water and broth; heat to boiling, stirring constantly, for about one minute. Stir in the half-and-half and the sliced mushrooms. Heat until just hot; do not boil. Sprinkle with parsley. Serve.
1 can (18.5 oz.) Progresso Beef Pot Roast Soup

2 medium potatoes, peeled, rinsed & cubed

1 TBS butter

6 pre-cooked, frozen meatballs

1/2 C egg noodles, cooked according to package directions

Salt & black pepper to taste

Peel, rinse and cube the potatoes. Melt butter in a frying pan and add the cubed potatoes, seasoning with salt and pepper to taste. Cook until soft but not mushy, leaving the outsides a bit crisp. Set aside. Cook egg noodles according to package directions. Drain and set aside. Place meatballs in a single layer on a microwave-safe plate, then cook until heated through (one or two minutes). Drain. Allow to cool before slicing meatballs into quarters. In a medium-sized pot, mix one can of Progresso Beef Pot Roast Soup with the cooked cubed potatoes, cooked egg noodles and quartered meatballs. Add a little extra water if needed. Simmer covered for ten minutes, or until hot. Suggestion: Serve with buttered potato rolls (or sub with baguette bread).
(Swiss Pork Loin Stew)
1 TBS margarine

1/4 LB bacon, cut into small pieces

2 onions, chopped

1 clove garlic, peeled & mashed

1/2 LB (or 1-1/4 C) cabbage, cut into strips

3/4 C celery, diced

1 C carrots, sliced

1 LB (or 2 C) potatoes, peeled & sliced

Salt & black pepper to taste

1 tsp. dried thyme

2 LBS pork loin ribs

1/4 C white wine

4 tomatoes, peeled & sliced
Heat margarine in a large cooking pot over medium heat. Add the bacon, onion and garlic; stir and sauté for three to five minutes. Add the cabbage, celery, carrots and potatoes; cover and steam until vegetables soften, fifteen to twenty minutes. Season with salt, black pepper and thyme. Place ribs in cooking pot; add white wine. Simmer over low heat for about one hour to ninety minutes. Add tomatoes during the last ten minutes of cooking time. Ladle into bowls and serve.

More Recipes >
---

Food Fare receives e-mail from reader's who have something to say about our web site, recipes, cookbooks, food articles and e-books in the Culinary Collection.

Reader's Mail >
---


---
Homemade soups and stews seem particularly satisfying during autumn and winter months. Depending on where you live, the two seasons can bring cold winds, rain, snow or impenetrable fog. Preparing, sharing and consuming a hot meal of homemade soup or stew warms not only the heart and soul, but nourishes the body as well.
The Soups & Stews Cookbook is Food Fare's offering for the "coolest" seasons, although the more than 170 recipes included within can also be prepared any time of year.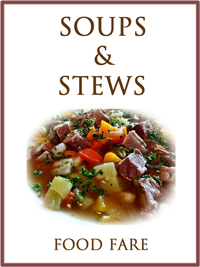 One of the most enjoyable aspects of preparing soups and stews is the freedom to add various ingredients that suit your own tastes, which can often deviate from traditional methods. I like nothing better than to experiment with tried and true recipes, adding my own personal flair to the mix.
For instance, when putting together Chicken & Vegetable Pasta Soup, I didn't follow any recipe per say but rather just threw in ingredients that tickled my own palate (see photo below). The result was a scrumptious soup which contained a simple yet mind-boggling amount of ingredients. The recipe yielded enough for many meals.

Kareh Raisu (Curry Stew) is one of my favorites, but over the years I've made simple adjustments to the standard array of ingredients that always seem to intensify the exotically savory flavors. The curry bar is essential to the recipe, yet changing the meat, vegetable, herb and spice line-up on occasion enhances the essence of the dish. The basic recipe calls for pork, potatoes, carrots and onions, but switching to beef or chicken with turnips, leeks and scallions can work just as well. The original dish contains minimal spices (garlic, salt and black pepper). Try adding a dash of cayenne pepper and a touch of ground cinnamon to shake things up.
Learning the food and cooking methods of different cultures can be a rewarding experience, as I can attest. I've been experimenting with various ethnic cuisines for many years, often with extraordinary results.
Some of the most unique yet divinely delicious include Artsoppa (Swedish Yellow Pea Soup), Avgolemono (Greek Egg-Lemon Soup), Bangaou (Chadian Lamb Stew), Bigos Mysliwski (Polish Hunter's Stew), Cassoulet (French Slow-Cooked Meat Stew), Cawl Mamgu (Welsh Leek Soup), Chicken Soup with Kreplach (Jewish Chicken Soup with Dumplings), Chrzan (Polish Beef & Horseradish Soup), Cioppino (Italian Seafood Stew), Fabada (Spanish White Bean Stew), Giabusada (Swiss Cabbage Stew), Irish Lamb Stew, Italian Sausage Stew, Jireesh (Kuwaiti Cracked Wheat Soup), Marak Kneidlach (Jewish Matzo Ball Soup), Minestra Maritata (Italian Wedding Soup), Nikujyaga (Japanese Beef & Vegetable Stew), Oshe Anor (Iranian Meatball Soup), Pie Floaters (Australia), Pot-au-Feu (French Beef Stew), Ribollita (Tuscan Twice-Cooked Soup), Rippli (Swiss Pork Loin Stew), Rishta (Syrian Lentil & Pasta Soup), Romazava (Malagasy Beef & Greens Stew), Shchi (Russian Cabbage Soup), Sherba (Libyan Lamb & Tomato Soup), Soljanka (Russian Spicy-Sour Soup), Soupe a L'Oignon Gratinee (French Onion Soup), Spargelcremesuppe (German Cream of Asparagus Soup), Stovies (Scottish Potatoes, Onions & Beef), Tamale Tomato Soup, Tzimmes (Jewish Sweet Meat Stew), Voatavo sy Voanjo (Malagasy Pumpkin Stew with Peanuts) and Zurcher Eintopf (Zurich Hotpot), among many others contained in the Soups & Stews Cookbook.
Enjoy the seasons as you journey through our hand-picked selection of delicious soups and stews, which are sure to tempt any palate.

Soups & Stews >

Soups & Stews Screenshots >

Food Fare: Soups & Stews Recipes >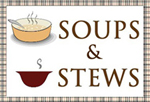 ---

SLOW COOKING
Many soups and stews are best rendered by slow-cooking methods, such as using crock pots or big pots on the stovetop over low heat for several hours.
According to Comparing Guru, the best slow-cookers are manufactured by Cuisinart, Hamilton Beach and Crock-Pot. However, I've used the same Rival cooker with removable server for more than twenty years without a hitch (see photo below). Crock pots come digitalized these days, but since my old one works just dandy I have no intention of messing with a good thing! Beef Stew Slow-Cooker is one of my oft-made dishes, all thanks to my old crock pot.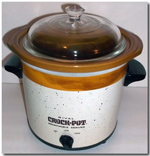 There is also a product known as Wonderbag, a "non-electric portable slow-cooker." Amazon describes the Wonderbag as: "Eco-friendly, no plugs, no fuss. Slow cooks your food, unplugged, by retaining the heat from an initial simmer on the stove. It keeps items cold or frozen as well. Works with 2-9 quart pots with short handles and lid; metal and cast iron work best. Electricity free and worry free; keep your dish cooking for up to twelve hours without electricity, ready-to-serve when you are. No overcooking, no burning."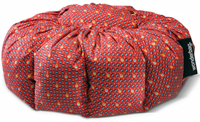 For every Wonderbag purchased in North America, one is donated to a family in Africa. The average cost of a Wonderbag is around $50.
Did You Know? Crock pots were first introduced in 1971 by Rival, who bought the rights to the device from Irving Naxon. The crock pot was originally developed under the moniker "Naxon Beanery All-Purpose Cooker." The appliance became extremely popular in the 1970s as many women began to join the workforce, therefore enabling them to start a meal in the crock pot in the morning and have it completely cooked and ready to eat when they returned home from work in the evening.
---

CLASSIC BEEF STEW
Most families have their own classic variations of beef stew. This is ours:
Beef Stew (Classic)

1-1/4 LBS beef stew meat

1 C baby carrots (peeled)

1/2 LB tiny medley potatoes (white & red)

1/2 sweet yellow onion, sliced

1 small zucchini, sliced

2 celery stalks, sliced

8 oz. button mushrooms, sliced

1 can (14.5 oz) whole tomatoes with liquid

1 TBS prepared garlic, crushed

1 TBS olive oil

Black pepper to taste

Lawry's Seasoned Salt to taste (or make homemade)

1 TBS Parsley (fresh or dried)

Flour (to coat stew meat)

Water

Rinse beef under cold water. If pieces are too large, cut in half. Place meat in a bowl and season to taste with black pepper, Lawry's Seasoned Salt and parsley. Lightly coat with flour and toss to spread evenly. Drizzle olive oil into a large cooking pot over low-to-medium heat; add crushed garlic. Stir in prepared stew meat. Allow to cook slowly for about thirty minutes to brown, stirring frequently. Add baby carrots and one can of whole tomatoes with liquid (cut tomatoes in half if they are too large). Add one can of water to mixture; stir and cover. Cook over low-to-medium heat for about one hour, stirring frequently. Add tiny medley potatoes, stir and cover. Cook for another thirty to forty minutes, stirring frequently. Add onion, zucchini, celery and mushrooms. Stir and cover, cooking an additional thirty to forty minutes over low-to-medium heat, stirring frequently. Add more water if necessary. Stew is cooked when meat is no longer pink and vegetables are tender. Suggestion: Serve with slices of fresh baguette bread (buttered and browned lightly under broiler). Please Note: Tiny Medley Potatoes from Natural Directions are usually available in most grocery stores. If not, substitute with small red and white potatoes with skins-on, halved or quartered depending on size.

Variations
Depending on your history and ethnic background, beef stew variations can become quite exotic or remain fairly simple. The following recipes are select variations, some of of which are obviously defined by their country of origin.
No matter your ethnic background, it's easy (and fun) to experiment with the different beef stew variations. Give it a whirl!
---

HEARTY SOUP
Bean & Bacon Soup is a perfect meal on a cold winter's day. Although simple to prepare, the mingling flavors of navy beans, bacon, carrots, celery, onion, thyme, garlic, tomato paste, red pepper flakes, vinegar and liquid smoke are simply divine - and very filling.
Bean & Bacon Soup

2 C navy beans 6 bacon slices, fried crisp & minced

3 small to medium carrots, minced

3 medium celery stalks, minced

1 onion, minced

1/2 tsp. thyme

2 to 4 cloves garlic, minced

1 can (4 oz.) tomato paste

Dash of dried red pepper flakes

6 to 8 C water

1 TBS wine vinegar

1 or 2 drops liquid smoke

Salt & black pepper to taste

Soak beans overnight and discard water. Place all ingredients except wine vinegar, salt and black pepper in a large kettle. Simmer until beans are tender, about three hours. Puree one to two cups of soup in a blender; return to pot. Add wine vinegar and liquid smoke; mix well. Season soup with salt and black pepper to taste. Serve.
Similar recipes include Fasolada (Greek Bean Soup), Frijoles en Charra (Mexican Bean Soup) and Gronden Benes (Medieval Ground Beans Stew).
---
We're working on our next Culinary Collection installment, scheduled for release sometime this summer. Keep your eyes peeled...
Check for updates on our News page and the Appetizing Muse blog, or visit us at Facebook, Google+, Pinterest and Twitter.
Happy Cooking from Food Fare,


Chief Editor, Food Notes
Connect with Shenanchie:
Appetizing Muse (blog)
---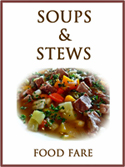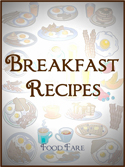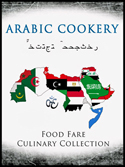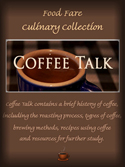 ---

(French Fish Stew)
3/4 C olive oil

2 onions, thinly sliced

2 leeks, sliced

3 tomatoes, peeled, seeded & chopped

4 cloves garlic, minced

1 sprig fennel leaf

1 sprig fresh thyme

1 bay leaf

1 tsp. orange zest

3/4 LB mussels, cleaned & de-bearded

3/4 LB fresh shrimp, peeled & deveined

9 C boiling water

Salt & black pepper to taste

5 LBS sea bass filets

1 pinch saffron threads

Heat olive oil in a large cooking pot or skillet; add onions, leeks, tomatoes and garlic. Cook and stir over low heat for a few minutes or until vegetables are soft. Stir in fennel, thyme, bay leaf and orange zest. Add mussels, shrimp and boiling water; stir to combine. Season to taste with salt and black pepper. Increase heat to high; boil for about three minutes to allow oil and water to combine. Add sea bass filets; reduce the heat to medium. Continue cooking for twelve to fifteen minutes or until fish is fully cooked. Stir in saffron threads. Ladle soup into a warmed serving tureen or individual soup bowls. Suggestion: Serve with slices of toasted French bread.
2 C celery, chopped

1 C onion, chopped

4 TBS butter (divided)

2 TBS flour

1 QT (4 C) chicken stock*

1/4 C heavy cream

Salt & black pepper to taste

Pinch of dried parsley (for garnish)

Place chopped celery and onions in a saucepan with two tablespoons of butter. Sauté over medium-low heat until onions are translucent and celery is soft. Puree onions and celery in a food processor until smooth. Place two tablespoons of butter in a large skillet; add flour and cook until flour turns into a smooth paste (about one minute). Add celery/onion mixture to skillet with flour; stir in chicken stock. Bring to a slight boil and reduce heat; add heavy cream. Add salt and black pepper to taste; mix well. Sprinkle with dried parsley for garnish. Serve hot. Note: If preferred, leave celery and onions in small chopped bits rather than pureeing to a smooth paste. *Substitution: I didn't have chicken stock on hand when I recently prepared Cream of Celery Soup. Instead, I improvised by using two beef bouillon cubes dissolved into four cups of boiling water as a substitute. I also didn't have access to a food processor on the particular day I prepared the soup, so I merely chopped the celery and onions into small, thin pieces before cooking them in butter. The soup was delicious without using the chicken stock, although extra salt is not needed if beef stock is used. ~ Shenanchie ~
(Tuscan Twice-Cooked Soup)
1/4 C olive oil

1 carrot, peeled & diced

1 red onion, diced

2 stalks celery, diced

1/4 LB cauliflower florets, diced

1/4 LB cabbage, diced

1 leek (white part only), washed & diced

1 bunch fresh kale, cleaned & chopped

1 potato, peeled & diced

Sea salt & black pepper to taste

1/4 C cooked white beans

1 can (14 oz.) tomatoes, crushed (with juice)

1 QT chicken broth

1 large sprig rosemary

1 large sprig thyme

Peel of 1 orange

1 tsp. black peppercorns

Cheesecloth & string

2 C day-old bread, cubed & oven-dried

Olive oil (for topping drizzle)

In a large pot over high heat, heat half the olive oil and all of the vegetables. Add salt and black pepper to taste. Continue to cook, stirring occasionally, until vegetables are nearly soft. Add white beans and crushed tomatoes with the juice; cook for about three minutes. Add chicken broth. Add rosemary, thyme, orange peel and peppercorns to cheesecloth; tie securely with string to create a bouquet garni. Add bouquet garni to cooking pot with soup; bring to a boil. Reduce heat and simmer for about one hour. Allow to cool and then refrigerate overnight. Next day, return cooking pot with soup to stove; bring to a boil, stirring constantly. Add cubed bread until soup becomes thick; set aside. Heat a small amount of olive oil in a large nonstick skillet; add thickened soup and brown on both sides. Drizzle with more olive oil. Serve. Recipe makes about ten servings.

More Recipes >
---