Click Delivery

Posted Thu, 01/18/18
Several months ago I began using Click List from my local grocery store. The premise is to order groceries needed online, and then drive to the store where the goods are brought to your car. It works splendidly. I detest shopping even under the best of circumstances, so Click List is like a veritable blessing for me.

The same store recently began offering home delivery for an extra $11.95. The delivery fee is rather steep, but there are days I just can't or don't want to leave my home. I'm not a hermit by any means, but sometimes I'm flooded with work and don't want to stop or break the flow.
A few weeks ago my computer mouse died in the middle of a large amount of work (the pointer would not copy or paste but instead moved the text in all different directions). The same store I order groceries from also happens to carry the mouse I use, so I was able to have it delivered the same day.
Needless to say, I'm a big fan of Click List.


Permalink

Tags: Grocery Stores

Send Comment >
---
Foody Cold Remedies

Posted Frit, 12/29/17
I suffered a terrible chest cold this month, which lasted for three weeks (including through Christmas). I'm just barely starting to feel better. During the illness I had little appetite for food. The most I'd eat some days was a few saltine crackers smeared with peanut butter accompanied by ice water because my throat and lungs were so raw.
This was the state of my refrigerator during the malaise: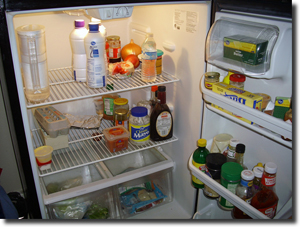 Once I started feeling better, I made a few "stick to the ribs" meals. The first was basically Biscuits & Gravy made into a casserole of sorts (Potatoes O'Brien on bottom layer, followed by cooked linked sausages, hot biscuits and topped with country gravy.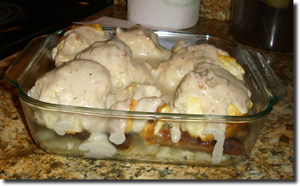 I also made a batch of my basic dumplings, but used whole wheat flour instead of white.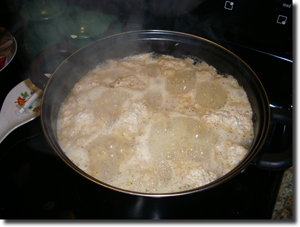 I'm fully recovered from the chest cold now, but for awhile there I thought it was the literal end. I think getting better had something to do with the food!


Permalink

Tags: Food Photos

Send Comment >
---
Christmas Goodies

Posted Fri, 11/24/17
Christmas defines the season of giving, followed in quick succession by a sense of renewal in the New Year. Food is the centerpiece of most holiday gatherings, when families, friends and co-workers come together in the spirit of appreciation and celebration.
Some of our favorite holiday recipes include Almond Hot Toddy, Christmas "Cheer" Egg Nog, Christmas Rum Balls, Classic Shortbread, Cream Brandy, Gingerbread Cake, Glogg (Swedish Mulled Wine), Irish Soda Scones, Kourambiethes (Greek Christmas Cookies), Mailanderli (Swiss Butter Cookies), Nusstorte (Swiss Nut Cake), Peanut Butter Cocoa, Pecan Kisses, Pwdin Nadolig (Welsh Christmas Pudding) and Wassail among many others. More Christmas recipes >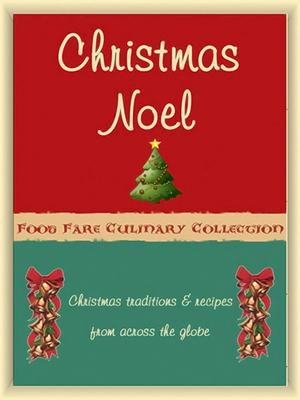 Christmas Noel contains information about the history and origins of Christmas, Santa Claus, the North Pole, Christmas trees, mistletoe, traditions, global holiday greetings, gift-wrapping ideas, seasonal recipes from across the globe and resources for further study. Christmas Noel also appears in article format on the Food Fare web site, where it is available for free. More >
Happy Christmas!


Permalink

Tags: Christmas; Food Fare Culinary Collection

Send Comment >
---
Thanksgiving 2017

Posted Wed, 11/01/17
As 2017 draws to a close, many of us have much to be thankful for (that we're still alive and kicking, for starters) - so join us in celebrating Thanksgiving!
As usual, Food Fare is offering bits about Thanksgiving with seasonal tips, resources and gobs of recipes such as Apple & Sausage Stuffing, Coppa Canapes, Garbanzo Nut Loaf, Grilled Asparagus, Pumpkin-Pecan Pie, Roast Turkey with Hazelnut Stuffing, Spiced Wine, Turkey Pita Pockets, Uncle Pat's Crab Cocktail and much more.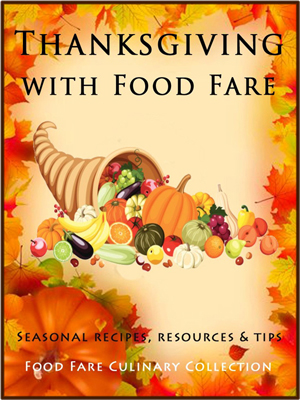 Thanksgiving with Food Fare also contains a brief history of Thanksgiving, along with recipes for appetizers, beverages, desserts, giblets, gravy, side dishes, stuffing, roast turkey and suggestions for leftovers. Also included are recipes for alterative meals such as duck, ham and vegetarian dishes. The book has turkey and ham guides, and links for further study.
Feast your eyes and get ready for the season!


Permalink

Tags: Food Fare Culinary Collection; Thanksgiving

Send Comment >
---