ABOUT SHENANCHIE
Shenanchie O'Toole is the owner and creator of Food Fare, and is sole writer of all articles, newsletters and content. She is also chief-editor of the Breakfast Cookbook, Community Garden Cookbook, Food Fare Cookbook, Furry Friends Cookbook, Glinhaven Cookery, Global Seafood Cookbook, The King's Table, Luscious Leftovers Cookbook, Quirky Snacks Cookbook, Recipes-on-a-Budget Cookbook and the Soups & Stews Cookbook, co-editor of the Ambrosia Cookbook and Larkin Community Cookbook, and the author/editor of Food Fare's Culinary Collection and Food Articles.
QUOTE:

People who know me well are often surprised to learn I write cookbooks and operate a recipe-related web site. While I do my fair share of cooking, I've never been one to be enthralled with the daily slog of trying to decide what to prepare for any given meal. I'm always looking for something different to adorn my dining table, not just simply run-of-the-mill meals to appease the unappreciative palates of others. Unlike many women of my generation, I don't find "kitchen duty" to be my natural area of responsibility and thus far have managed to avoid it like the plague (as my three former husbands would attest if they could). However, when it comes to improvising and experimenting with new recipes and cooking methods, I tend to throw myself into the mix. Food Fare cookbooks give me a place to put all of my little "experiments" and hopefully in the process allow others to give the recipes a whirl as well.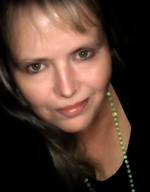 The name "Shenanchie" is derived from the Gaelic term seanchaí, which defines a bard and storyteller.
Shenanchie is also the author of several articles and research papers on the food and culture of different countries, time periods and events. Features contain bits of history, food traditions, lifestyle and dishes native to the specific country, as well as authentic recipes. In most cases, there is also a section of words and phrases in the native tongue of the subject. Research papers also include food-specific topics. Click here for more.
Since the inception of Food Fare in October 2008, the site has grown at a steady pace. What began as a personal web site with a few Irish recipes and canine treats has blossomed into a multi-paged cooking treasure trove. Recipes now number in the hundreds.
THE WRITING LIFE
Shenanchie writes fiction novels under the pseudonyms Deborah O'Toole and Deidre Dalton.
Writing as Deborah O'Toole, she is the author of Celtic Remnants, a novel of enduring yet impossible love and betrayal set in the turbulence of Ireland, glamour of London and the wilds of Scotland.
She is also author of The Crypt Artist, Glinhaven, In the Shadow of the King and Mind Sweeper.
"Deidre Dalton" titles include The Advent, Quixotic Crossings, The Twain Shall Meet, Enthrallment, The Keeper's Journal, Hearts Desires, The Twilight and Megan's Legacy. The eight books are part of the Collective Obsessions Saga, which were released by Club Lighthouse Publishing.
Other "Deidre Dalton" titles include Bloodfrost, Bloodlust and Blood & Soul. The books are part of the Bloodline Trilogy. Read more >
In addition, she is the author of several juvenile fiction titles (known as Short Tales) and a volume of abstract poetry (Torn Bits & Pieces), writing as Deborah O'Toole.
Shenanchie lives in the United States, where she continues to write and experiment with new dishes on a regular basis.
She posts frequent entries on her food blog Appetizing Muse, along with Food Fare's pages at Facebook, Pinterest and Twitter.