Special Edition:
Global Seafood Cookbook
January 2016
Volume 16, Issue #1
---

---


Global Seafood Cookbook >

Quirky Snacks Cookbook >

Sushi: No Raw Fish Allowed! >

Soups & Stews Cookbook >
---

(Russian Salmon Pie)
3 to 4 LBS salmon filets

10 C water

2 TBS vinegar

1 onion, quartered

1 carrot, sliced

1 bay leaf

1 tsp. dried thyme

1/2 C chicken broth

1/2 C instant rice

1 TBS dried dill

2 TBS butter

1/2 LB fresh button mushrooms, sliced

4 small onions, peeled & minced

2 hard-boiled eggs, peeled & crumbled

2 pkgs. (5-1/2-oz. or 160g each) frozen pastry dough, thawed

1 egg yolk, beaten

In a large skillet, mix together water, vinegar, onion, carrot, bay leaf and dried thyme. Bring mixture to a boil. Add salmon; simmer for fifteen to twenty minutes. Remove salmon from broth; remove and discard salmon skin and bones. Flake salmon meat; set aside. In a cooking pot, bring chicken broth to a boil. Remove from heat; stir in rice and set aside for about five minutes. Stir in dill. In a skillet, melt butter over medium heat. Add sliced mushrooms and minced onions; sauté for three or four minutes. Remove from heat and set aside. In a bowl, mix together flaked salmon, cooked rice, mushrooms and onions; add crumbled eggs. Mix well. Preheat oven to 350-degrees F. Roll each pastry dough into 1/4-inch thick rectangles. Line a greased baking sheet with one of the pastry rectangles. Spoon some of the salmon mixture in pastry rectangle, spreading about one inch from each side. Brush edges of the dough with beaten egg yolk. Top with remaining pastry rectangle; seal dough by gently pinching edges together. Prick top of dough with a fork several times. Brush dough with remaining beaten egg yolk. Bake for about one hour or until golden brown in color. Allow to cool slightly before serving.
(Nordic Creamy Salmon Soup)
3 TBS olive oil

1 leek, chopped (light green & white parts only)

3 C water

1 bay leaf

1/2 LB potatoes, peeled & cubed

1 LB salmon filet (skinned & de-boned), cut into medium to large pieces

3/4 C cream (sub with half-and-half)

1 TBS cornstarch with 1 TBS water (use more cornstarch for thicker broth if desired)

1 TBS butter

Salt & black pepper to taste

Fresh parsley sprigs or dill (for garnish; optional)

1 small lemon, cut into wedges (for garnish; optional)

Heat olive oil in a large skillet; cook chopped leek over medium-low heat until softened. Add water and bay leaf; bring to a boil. Reduce heat and add the cubed potatoes. Cover and simmer until potatoes are tender, about twenty to thirty minutes. Add salmon pieces; simmer for about five minutes. Stir in cream (or half-and-half). In a small bowl, combine cornstarch and one tablespoon of water; mix well to dissolve cornstarch. Add mixture to soup; simmer until thickened. Add butter into soup; remove from heat. Season with salt and black pepper to taste. Top with fresh parsley or dill and serve with lemon wedges if desired. Recipe makes about four servings. Note: Lohikeitto is a common dish in Finland and Sweden (where the dish is known as Laxsoppa), as well as other Nordic countries.
5 LBS fresh mussels, scrubbed & de-bearded

1/3 C lime juice

1 can (13.5 oz.) unsweetened coconut milk

1/3 C dry white wine

1 TBS red curry paste

1 TBS minced garlic

1 TBS fish sauce

1 TBS sugar

2 C fresh cilantro, chopped

In a large cooking pot, combine lime juice, coconut milk, wine, curry paste, garlic, fish sauce and sugar. Stir to dissolve sugar and curry paste; bring to a boil over high heat. Add mussels. Cover and cook, stirring occasionally, until mussels are opened, about five to eight minutes. Remove cooking pot from heat. Discard unopened mussels. Pour mussels and liquid into a large platter; toss with chopped cilantro. Serve.
2 rib-eye steaks (sub with chuck, sirloin or T-bone if desired)

Salt & black pepper to taste

1/2 LB fresh button mushrooms, cleaned & sliced

2 TBS butter (for cooking mushrooms)

2 whole lobsters

Water

Trim fat on the edge of steaks; place on a broiler pan or grill two inches away from heat. Steak Doneness: Cook for five minutes on each side for rare steak, six minutes on each side for medium steaks, or seven minutes on each side for well-done steaks. Season with salt and black pepper. Melt two tablespoons butter in a skillet; add sliced mushrooms. Sauté until mushrooms are soft; remove from heat. In a large cooking pot, bring water to a boil. Add a few pinches of salt. Place whole lobsters in boiling water; reduce heat slightly. Simmer, uncovered, for about eight to twelve minutes or until lobster shells turn bright red in color and meat is tender. Arrange lobsters and steaks on dinner plates; top steaks with sautéed mushrooms. Serve with Lemon Butter. Culinary Note: "Surf 'N Turf" is defined as a main course whereby seafood and meat are combined. Lobster can be substituted with crab, scallops or shrimp.

More Seafood Recipes >
---
Happy New Year! Welcome to Food Fare's first newsletter of 2016, and to the announcement of our 10th cookbook release . . .
The Global Seafood Cookbook contains recipes for well-known favorites such as clam chowder, crab cakes, various forms of fried fish, lobster tails with lemon butter, oyster stew, poached salmon, shrimp salad, sushi and much more, but also offers unique - yet delicious - dishes found in various nooks and crannies from around the world.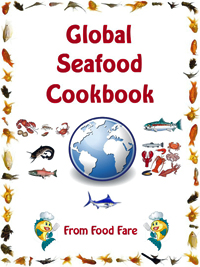 Some of the less common recipes in the Global Seafood Cookbook include Apelsinfisk (Swedish Orange Fish), Atherina (Greek Fried Smelts), Coco Crevettes (Malagasy Prawns in Coconut Sauce), Coulibiac (Russian Salmon Pie), Garides me Feta (Greek Shrimp with Feta), Hut Benoua (Moroccan Snapper with Almond Paste), Labskaus (German Herring & Corned Beef with Egg), Langouste a la Vanilla (Comorian Lobster in Vanilla Sauce), Lohikeitto (Nordic Creamy Salmon Soup), Mackerel in Rhubarb Sauce (Ireland), Marmitako (Basque Tuna Stew), Ngob Pla (Thai Perch with Curry Paste), Pastai Cocos (Welsh Cockle Pie), Salata Mishwiyya (Tunisian Grilled Pepper, Tomato & Tuna Salad), Salmagundi (Pirate Grand Salad), Sledz w Smietanie (Polish Creamed Herring) and Tweed Kettle (Scottish Salmon Hash), among many others.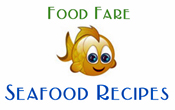 In addition, the Global Seafood Cookbook contains recipes for several condiments and sauces for fish, such as Charmoula (marinade and dipping sauce for Moroccan fried fish), cocktail sauce, curry paste (for Ngob Pla Thai Perch), Hovmastarsas (mustard sauce for Swedish Gravad Lax salmon and dill appetizer), Kamoon Hoot (Libyan seafood spice blend for Haraimi lemon tomato fish), lemon butter, Old Bay seasoning mix (for Hot Lobster Dip, Old Bay Crab Cakes and Baked Stuffed "Lobstah"), spicy mayonnaise (for Spicy Yellow Lake Perch Sandwich), tahini paste (for Lebanese Samke Harra spicy fish), tartar sauce, teriyaki sauce, wasabi sauce and more.
The Global Seafood Cookbook also includes information about the health benefits of seafood, nutrition facts, fish trivia and general "how-to" guides (de-bearding, de-boning & filleting, deveining, shucking, & cracking shells).
Oddly enough, after it was all said and done, my favorite recipe in the Global Seafood Cookbook is Shrimpy Devils (deviled eggs with shrimp). Shrimpy Devils are a simple yet quite satisfying bit of culinary heaven.
The Global Seafood Cookbook is available at Amazon (Kindle), Barnes & Noble (Nook) and Kobo Books (multiple formats). The Adobe Digital edition (PDF) contains all graphics and a recipe index. To view a complete list of recipes, click here (PDF, 739 KB).

Global Seafood Cookbook >

Global Seafood Cookbook Screenshots >

Food Fare: Seafood Recipes >
---

SEAFOOD HEALTH BENEFITS
Seafood is an excellent source of essential minerals (iron, phosphorus, potassium and zinc), protein and vitamins (B, B-6, B-12, biotin and niacin). Canned fish (salmon or sardines) are also rich in calcium. In addition, many species of seafood are low in calories, cholesterol and sodium. Seafood contains roughly twenty percent of the same proteins found in poultry and red meat. There are certain varieties of fish that are high in fat such as catfish, mackerel and salmon (also a good source of Vitamin A), but their fat content is chiefly unsaturated. Oily fish (herring, mackerel, salmon, sardines and tuna) are also rich in Omega-3 acids.
The USDA Dietary Guidelines for Americans recommends people eat two servings (8 ounces) of seafood on a weekly basis. The USDA (United States Department of Agriculture Choose My Plate site) also reports that common portions and ounce equivalents for one ounce of cooked fish or shellfish is one can of tuna, drained (=3 to 4 ounce equivalents), one salmon steak (=4 to 6 ounce equivalents) and one small trout (=3 ounce equivalents).
Other benefits of a seafood-rich diet include:
Can lower blood pressure.

Can lower blood triglycerides (fats).

Can improve symptoms of inflammatory diseases such as arthritis and psoriasis.

Can reduce the risk of heart disease.

May improve heart function and reduce damage from heart disease.

May prolong life after a heart attack.
According to the American Journal of Preventive Medicine via the Seafood Nutrition Partnership, a study undertaken by UCLA resident radiologist Dr. Cyrus Raji found that eating fish (baked or broiled, but never fried) is associated with larger gray matter volumes in brain areas responsible for memory and cognition in healthy elderly people.
For nutritional values on a larger variety of fish, click here.
---

CLAM CHOWDER
Most families have their own classic variations of clam chowder. Here are two of ours, starting with my favorite:
New England Clam Chowder (Colonial American)

1 quart clams

3 C water

2 slices of salt pork, chopped

1 medium onion, sliced

4 medium potatoes, peeled & cubed

3 TBS butter

1-3/4 C half-and-half

1 TBS salt

Black pepper to taste

Fresh parsley, chopped (for garnish)

Combine the clams and water in a large cooking pot; heat to a boil. Drain the clams, reserving the broth. Chop the clams into small pieces; set aside. In a frying pan, cook the salt pork until it is lightly browned. Stir in the onion; cook until translucent. Transfer the cooked salt pork and onions back into the large cooking pot; mix in the clam broth and potatoes. Simmer, stirring occasionally, until the potatoes are tender. Then mix in the butter, Half-and-Half, salt, black pepper and clams. Heat but don't boil; serve immediately. Garnish with chopped parsley.
Or try the following classic variation:
1 quart chowder clams; shucked in their liquid (sub with three 6.5 oz. cans of clams with juice)

1/2 LB bacon, chopped

1 medium onion, finely chopped

1 small green bell pepper, finely chopped

12 oz. can of chopped tomatoes, juice reserved

3 medium potatoes, diced (sub with 12 tiny red potatoes)

4 carrots, diced

2 stalks celery, diced

4-1/2 C water

Salt & black pepper to taste

1 tsp. dried thyme

Drain the clam liquid and reserve. Chop the clams finely and set aside. Cook the bacon in a heavy soup pot until almost crisp; drain on a paper towel and set aside. Add the onions and green bell pepper to hot bacon fat; sauté until onions are a pale gold color. Add the tomatoes and their juice, potatoes, carrots, celery and water. Season with little salt (clams can be salty on their own), and black pepper to taste. Add the thyme; bring to a boil. Lower heat and simmer gently, uncovered, for about forty minutes or until potatoes are tender. Add the clams and their juice; cover and simmer twenty additional minutes. Add the reserved bacon. Serve.
And yet another variation:
Give it a whirl!

More Seafood Recipes >
---

FISH TRIVIA
Fun facts and trivia about fish in general . . .
An "ichthyologist" is a person who studies fish.

Pufferfish are said to be the second-most poisonous vertebrates in the world (following the golden poison frog). Just one gram of their toxin can kill a human adult within twenty minutes or less. However, Pufferfish are considered a culinary delicacy in China, Japan and Korea when prepared by specially trained chefs.

Stone Fish are also one of the most poisonous fish in the world. Their sting can cause paralysis, shock and even death if not treated within a few hours. As with the Pufferfish, Stone Fish are considered a culinary delicacy in some parts of Asia, most notably Hong Kong and south Japan. Stone Fish venom is rendered harmless after heating. The meat is white and sweet, and often cooked with ginger to make clear soup.

Fish "breathe" through their gills, which extract oxygen from the water.

Fish live and breathe in water. All fish are "vertebrates," indicating they have spinal cords surrounded by bone or cartilage.

Female ocean Sunfish produce more eggs than any other species of fish; they can generate 300 million in one spawning.

The majority of fish reproduce by laying eggs. Great white sharks, however, give birth to live babies known as "pups."

The four-eyed fish known as Anableps can see above and below water at the same time.

There are three classes of fish: bony, cartilaginous and jawless.

Fish can drown in water. Fish need oxygen just like humans, so they can suffocate if there is not enough oxygen present in the water.

There are more species of fish than all species of amphibians, birds, mammals and reptiles combined.

For more, check out the Global Seafood Cookbook >
---

COVER FACTS
Several months prior to the release of the Global Seafood Cookbook, I made public two cover designs for people to choose their favorite. I fully intended to select the cover voted most popular by readers. These were the selections:
Without doubt, the sedate cover with a gray background (pictured above left) was chosen by readers, friends and family members. However, my mother proved to be the exception. She preferred the more colorful and light-hearted cover (pictured above right).
My darling Mum passed away a few days before Thanksgiving 2015, so I selected her choice over popular vote as the official cover for the Global Seafood Cookbook. It was the last bit of design and writing she saw from me, and I wanted to honor her choice.
It is definitely more complicated than choosing a book cover, naturally. Losing my mother has been the most devastating event in my life to date, something I'm doubtful I'll ever fully recover from. Keeping busy with the preparation of the Global Seafood Cookbook was a salvation of sorts, in part preventing me from diving into a complete depression.
The Global Seafood Cookbook is dedicated to the loving memory of my mother, Joyce M. O'Toole. I miss you desperately, Mum.
---

UNTIL NEXT TIME...
We're working on our next Culinary Collection volume (Native American Cuisine), scheduled for release in mid-2017.
In the meantime, check for current updates on our News & Updates page and the Appetizing Muse blog, or visit us on Facebook, Google+, Pinterest and Twitter.
Happy Cooking from Food Fare,



Chief Editor, Food Notes
Connect with Shenanchie:
Appetizing Muse (blog)
---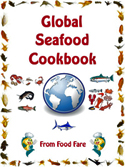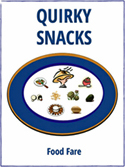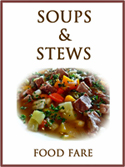 ---

1/2 C breadcrumbs

4 TBS butter, softened

2 red bell peppers, chopped fine

2 TBS fresh parsley, chopped fine

1 TBS green onions, chopped fine

1/2 tsp. cayenne pepper

24 cherrystone or littleneck clams

6 slices bacon, cooked crisp & then crumbled

In a bowl, combine "Casino" ingredients: breadcrumbs, softened butter, red bell pepper, parsley, green onions and cayenne pepper. Mix well. Shuck the clams. Note: Leave loosened clam meat in one half of shells; discard other half of shells. Place clams in a baking dish; cover each clam with approximately one teaspoon of the "Casino" mixture. Broil four to six inches from the heat for about three minutes, or until browned. Garnish with crumbled bacon; serve at once. Recipe makes about four servings.
(Malagasy Prawns in Coconut Sauce)
2 LBS prawns, cooked & shelled

3 TBS butter

1 onion, chopped

1-1/2 TBS garlic, grated

1 TBS ginger, grated

1 TBS lemon juice

1 tsp. brown sugar

1-1/2 C coconut milk

1 TBS tomato purée

Salt & black pepper to taste

1/4 C fresh parsley, chopped (for garnish)

White rice (for serving; optional)

In a heavy pan, melt butter over medium heat. Add onion and sauté for about six minutes, or until translucent. Add garlic and ginger; continue cooking for two minutes. Stir in prawns and season to taste with salt and black pepper. Drizzle the lemon juice into mixture, and then add coconut milk. Stir in tomato purée and sugar. Bring mixture to a simmer and cook for about five minutes to heat through. Garnish with chopped parsley. Suggestion: Serve with white rice.
1-3/4 C all-purpose flour

1 tsp. baking soda

Salt & black pepper to taste

1 TBS white vinegar

1 C liquid (1/2 beer, 1/2 water)

2 LBS fresh white fish filets (cod or haddock)

Vegetable oil (for frying)

In a large bowl, mix together the flour, baking soda, salt and black pepper. In a large measuring cup, mix together the white vinegar, beer and water. Make a well in the center of the flour mixture; gradually add liquid in order to form a smooth batter. If mixture is overly thick, add more water as necessary. Allow batter to stand for about one hour. Add vegetable oil to a deep fryer or large heavy skillet (fill about 1/3 up the side). Heat to 375-degrees F over medium heat. Dredge fish filets into extra flour before dipping into batter mixture. Fry fish for three to seven minutes (depending on thickness of filets) or until golden brown in color, turning once to brown both side evenly. Drain cooked filets on paper towels. Recipe makes about six servings. Substitutions: Use halibut, pollock or tilapia in place of cod or haddock. Suggestions: Serve with French fries ("chips"), coleslaw, lemon wedges, malt vinegar or Tartar Sauce.
(Basque Salad with Tuna)
6 hard-cooked eggs, peeled & sliced

1 can (5 oz.) tuna in water, drained & flaked

4 small cucumbers, finely sliced

4 tomatoes, blanched, peeled & sliced

1 can (2 oz.) anchovy filets, drained

4 TBS olive oil

1 TBS red wine vinegar

1 tsp. Dijon mustard

2 TBS ketchup

1 tsp. dried mixed herbs (basil, marjoram, mint, sage, savory & thyme)
Layer sliced eggs, flaked tuna, cucumber and tomatoes in a salad bowl. Split anchovy filets in half lengthways; arrange in a lattice pattern over tomato layer. In a bowl, whisk together olive oil, red wine vinegar, Dijon mustard, ketchup and mixed herbs to make a dressing. Pour over salad. Cover with plastic wrap; chill for about one hour before serving.

More Seafood Recipes >
---

Food Fare receives e-mail from reader's who have something to say about our web site, recipes, cookbooks, food articles and e-books in the Culinary Collection.

Reader's Mail >
---