Halloween 2012
Volume 12, Issue #3
---

---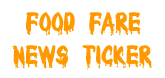 Community Garden Cookbook released
Celebrate the successes and altruistic efforts of community gardens across the globe with more than 100 recipes for use with garden-fresh ingredients including appetizers and snacks, beverages, breads, breakfast dishes, condiments and sauces, desserts, herbs and spices, main meals, soups and stews, and side dishes.

Food Fare on Kobo
Food Fare Culinary Collection now available at Kobo Books.

The Potato released
"The Potato" added to Food Fare Culinary Collection.
---
MAKE YOUR OWN HALLOWEEN CANDY:


1 C sugar

2/3 C white corn syrup

1/3 C butter

1 tsp. vanilla

2 1/2 C powdered sugar

1/4 tsp. salt

1/3 C powdered milk

Food coloring
In a large non-stick frying pan, combine the sugar, butter, and corn syrup. Bring to a boil, stirring constantly. Turn heat to low and boil another five minutes, stirring occasionally. Remove from heat and add the vanilla. In a bowl, combine the powdered sugar, salt and powdered milk. Add all at once to the mixture in the pan. Add food coloring if desired. Stir until cool enough to handle. Shape. Makes 1.75 LBS of candy.
---

Food Fare often receives e-mail from reader's who have something to say about our web site, recipes, cookbooks, food articles and e-books in the Culinary Collection.
---

Do you want to become a recipe contributor to Food Fare? If so, you can have your own free pop-up page at Food Fare with a photo and links to your web site and blog.
---

Are you an epicurean who fancies food-related computer diversions? Check our links to time management games that can be downloaded and played at home, some of which include printable recipes.
---
OUR RECIPE PAGES:






---

My favorite time of year is finally here! The heat of summer is now just an unpleasant memory. Leaves are starting to change colors, shedding the dusty look of the driest season. Food also becomes more alluring, full of harvest hues and flavors.
Autumn usually provides a bounty of fresh produce, including pumpkins, squashes and zucchini. It wasn't until about a decade ago that I learned to appreciate squash in almost every form, although my favorite preparation method is to bake squash with butter and pepper.
Zucchini Casserole is another favorite, along with Apple-Stuffed Acorn Squash, Baked Pine Nuts, Pumpkin Cookies, Pumpkin Pancakes, Pumpkin Pie Pudding and Pumpkin Seeds. The possibilities are literally endless.
Enjoy the season!
Happy Halloween from Food Fare...
---

Looking for some Graveyard Grub? Recipes for the season? Or some Halloween folklore? For ghoulish tidbits from Food Fare, take a pick from Halloween History or All Hallows Eve - if you dare.....
Learn about Halloween traditions around the globe, famous legends, tricks and trivia, Halloween words that originated many centuries ago, peruse ghoulish web links, and try your hand at some fiendish delights:
Black Cat Pie, Bloodshake, Bloody Mary Dip, Bread of the Dead, Eyeballs, Eye of Newt, Freaky Fingers, Monster Eyes, Soul Cakes, Spider Web Dip, Toasted Tombstones, Witches Brew and many more.
Don't forget about the Pumpkin Patch, which includes the history of pumpkins, tips on growing pumpkins, varieties, methods of cooking, health benefits, trivia, and a few choice recipes such as Pumpkin Dip, Pumpkin Pancakes and Roasted Pumpkin Seeds.
---
Food Fare's Community Garden Cookbook is the newest addition to our growing collection of cookbooks, and is now available in Kindle and Nook editions.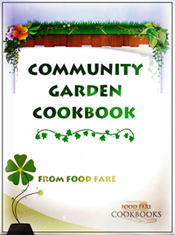 To celebrate the successes and altruistic efforts of community gardens across the globe, Food Fare's Community Garden Cookbook offers more than 140 recipes for garden-fresh ingredients, including appetizers and snacks, beverages, breads, breakfast dishes, condiments and sauces, desserts, herbs and spices, main meals, soups and stews, and side dishes.
A community garden is defined as a single piece of land on which members of a community cultivate the soil in order to yield an array of fresh produce and other plants. Some gardens are primarily formed to grow vegetables for food banks, while others are ultimately shared amongst members of the community.
Community gardens promote and provide healthier sustenance for those living on limited incomes and a better eating lifestyle for people in general. They also bring awareness to environmental and sustainability issues, as well as offering educational and recreational opportunities for the disabled and otherwise disenfranchised. The USDA claims nearly 15% of the world's food is now grown in urban areas, with many gardens being nurtured in backyards, parks, vacant lots, roof-tops and balconies.
---

BITS & PIECES:
New recipes added with Food Fare's autumn update include:
*FOOD FARE @ KOBO BOOKS
All Food Fare e-book titles are now available at Kobo Books. The books are offered in e-reader, Kobo-Vox, Smartphone and tablet editions. Click here to read more.
*CULINARY RANKINGS @ AMAZON
According to Amazon, Medieval Cuisine has consistently ranked the best seller in Food Fare's Culinary Collection for more than a year. I often receive messages from people who have read the various books in the collection, or plan to use them for educational purposes. In particular, Medieval Cuisine has been used by professors, students (several from Duke University), and event organizers as reference material. The book has also been quoted verbatim by many medieval-themed web sites. It's very flattering to say the least, and validates the hours, days and weeks I spent researching and writing Medieval Cuisine ten years ago.
---
We're planning a special Christmas issue of Food Notes in December, so keep your eyes peeled.
Check for updates on our News page and Appetizing Muse, or visit us at Facebook, Google+, Pinterest and Twitter.
Happy Cooking from Food Fare,


Shenanchie O'Toole
Chief Editor, Food Notes
Connect with Shenanchie:
Appetizing Muse (blog)
---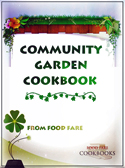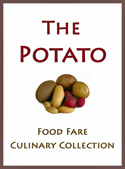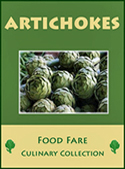 ---
SPOOKY JUICE
Try this easy-to-make juice and create a new Halloween favorite!


2 C grape juice

Lime sherbet

2 C lemon-lime soda

Lemon sherbet
Pour grape juice into a mixing bowl. Add two scoops of lime sherbet, and one scoop of lemon sherbet. Stir. Add lemon-lime soda. Stir. Divide into coffee mugs or cups. Serve.
---

Halloween Cuisine from Food Fare contains a brief history of Halloween, traditions celebrated around the globe, famous ghoulish legends, pumpkin trivia, Halloween recipes, common Halloween words and their origins, and links for further study.
Halloween Cuisine is available in Kindle, Kobo and Nook editions. It also appears in multiple format on the Food Fare web site, where it is available for free in the articles All Hallows Eve and Halloween.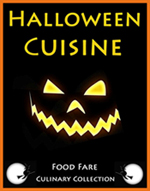 ---
MORE FOOD FARE ONLINE: