Foody Web Migration

Posted Thu, 07/20/17
In June 2016, my former web host (Tripod) had a major meltdown. Tripod disappeared from the face of the earth, along with all my web pages. They didn't notify their subscribers about the issue, which probably angered me the most. I spent the better part of three days re-uploading and migrating more than a thousand pages relating to my fiction books to a new web host (including documents, style sheets and images, along with creating new directories and sub-directories for each site).
However, I left Food Fare where it was because Tripod suddenly came back online after my three days of work. On a technical note, the Food Fare website has more than 5,000 files (not counting the sub-sites), and I wasn't anxious to move the entire lot. I had some free time recently, so I went ahead and migrated the entire cooking kit and caboodle to the new web host.
Anything with "Tripod" in the URL is now no longer valid. Here are the new - and hopefully permanent - links:
The old host Tripod did not support PHP (scripting language) or SLQ (database storage), but the new one does. In essence, the web capabilities mean I can create contact forms without using a third-party host, among other pertinent applications.
Welcome back to Food Fare!


Permalink

Tags: Food Fare Website

Send Comment >
---
Hot Italian Sausage Tomato Sauce

Posted Sat, 07/15/17
As I've said many times before, beef prices are out of control. I rarely purchase it anymore, thinking of ways to make beef-related dishes without using actual beef. I'm partial to hot and spicy foods, so I decided to make a tomato sauce in the same vein without using beef.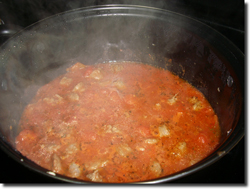 Hot Italian Sausage Tomato Sauce

Click on image to view larger size in a new window.
Italian sausage (five lark links) costs about $3.99, while ground beef is roughly $6.99 per pound. It was no contest.
Hot Italian Sausage Tomato Sauce

1 pkg. (18 oz.) hot Italian sausage (about 5 large links)

1 can (14.5 oz.) diced tomatoes with juice

1 can (8 oz.) tomato sauce

1/4 C water

2 cloves garlic, peeled & minced

1 tsp. dried basil

1 tsp. dried parsley flakes

Pinch of mint flakes

Black pepper to taste

Olive oil

1/2 pkg. (8 oz.) angel hair pasta or preferred pasta

Partially freeze sausage so that it will keep it's shape when cut. Slice sausage into about 1/2"-thick pieces. Drizzle olive oil into a cooking pot over medium-low heat. Stir in minced garlic. Add sausage pieces. Cook, stirring occasionally, until sausage is thoroughly cooked. Add diced tomatoes with juice, tomato sauce and water. Stir. Add basil, parsley, mint flakes and black pepper. Stir. Simmer for about forty minutes, stirring occasionally.




Serve sauce on cooked angel hair pasta, or any other pasta you prefer. Freeze unused sauce portions.
The sauce is fabulous.
To be honest, I now prefer it to the traditional tomato sauce with beef meatballs.


Permalink

Tags: Dips, Dressings & Sauces; Food Photos; Italy; Leftovers

Send Comment >
---
Kitchen Meanderings

Posted Tue, 07/11/17
There's nothing like meandering in the kitchen at the beginning of the week. I had a free Tuesday, so I tried to make the most of it. First, I put together a quick Denver Omelet. By "quick," I mean mixing eggs, milk, cheese, diced ham and green bell pepper without adding any seasonings. All of it came from leftovers in my fridge.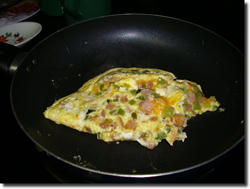 "Quick" Denver Omelet

Click on image to view larger size in a new window.
And then I went about assembling this:
Chicken Seasoning (KFC Secret Blend)

1 TBS oregano

1 TBS ground sage

1 tsp. powdered ginger

1-1/2 tsp. thyme

3 TBS packed brown sugar

3 TBS dry minced parsley

1 tsp. pepper

1 TBS paprika

2 TBS garlic salt

2 TBS onion salt

2 TBS chicken bouillon powder

1 pkg. Lipton tomato soup mix

Pulse all ingredients in a blender, or stir with a spoon by hand until thoroughly blended. To coat chicken add 1 ounce of mix to 1 cup of flour in a large plastic bake. Add chicken and shake to coat.




Store leftover seasoning in a sealable container in a dry place.
The omelet and the seasoning blend have nothing to do with one another, but that was my day in the kitchen.


Permalink

Tags: Breakfast; Food Photos; Herbs & Spices; Leftovers

Send Comment >
---
Meat Loaf Sandwiches

Posted Fri, 06/30/17
I'm in the midst of putting together a "leftovers" cookbook, so I'm often experimenting with remnants from weekly meals. I'd never eaten a meat loaf sandwich before, which of course drove me to try my own recipe.
This was the result: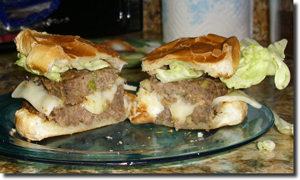 Click on image to view larger size in a new window.
I have to say it's one of the best sandwiches I've ever had. I toasted hamburger buns for my first foray, but this sandwich would also go well on any other type of bread.
Click here for my recipe.


Permalink

Tags: Food Photos; Leftovers; Sandwiches

Send Comment >
---
Garbanzo Pea Soup

Posted Thu, 06/29/17
This recipe began with leftover canned garbanzo beans. I wanted to add a hearty texture to the soup, and chickpeas fit the bill quite nicely:
Garbanzo Pea Soup

1-1/2 C ham broth

2-1/4 C water

3 bouillon cubes (beef, chicken or vegetable)

1/2 C canned chickpeas, drained

1 pkg. (12 oz.) frozen green peas

1 tsp. Lawry's Seasoned Salt

2 tsp. dried basil flakes

1 tsp. dried parsley flakes

Black pepper to taste

1/2 C Half-and-Half

Cornstarch (to thicken soup)

1 C cooked ham, diced small (optional)

Bring water to a boil in a large cooking pot; add bouillon cubes. Boil and stir until bouillon cubes dissolve; reduce heat to simmer. Add ham broth; stir. Add chickpeas and frozen green peas; stir. Add Lawry's Seasoned Salt, dried basil flakes, dried parsley flakes and black pepper to taste; stir. Cover, but leave lid slightly ajar to allow steam to escape. Simmer for about thirty to forty minutes, stirring occasionally. Mix cornstarch with a bit of water and add to soup mixture; stir until soup thickens. Using an electric hand mixer, beat soup until peas and chickpeas are pureed. Allow to cool slightly. Heat Half-and-Half in a microwave for about twenty seconds; stir into soup puree mixture. If using ham, add at the very end and stir well.

Suggestion: Serve with buttered, crusty French bread.
Garbanzo Pea Soup is simply delicious. It also freezes well.
Give it a whirl!


Permalink

Tags: Food Photos; Leftovers; Soups & Stews

Send Comment >
---