Food Fare Cookbooks
Food Fare's collection of e-cookbooks keeps growing. So take your pick and get cooking!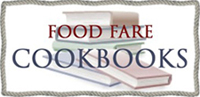 Ambrosia Cookbook
Contains recipes in all categories, along with special dishes for holidays and vegetarians, and easy-to-assemble herb and spice mixes.

Breakfast Cookbook
Includes recipes for breads, crepes, fruits, grains, casseroles, eggs, full meals, pancakes, breakfast sandwiches and vegetables.

Community Garden Cookbook
Features 140 easy recipes for garden-fresh ingredients, including appetizers, beverages, breads, breakfast, condiments and sauces, desserts, herbs and spices, main meals, soups and stews, and sides.

Food Fare Cookbook
Contains the cream of the crop from the Food Fare web site, including more than 200 distinctive and original recipes.

Furry Friends Cookbook
Includes more than 60 recipes for homemade dog and cat food.

Global Seafood Cookbook
Includes more than 200 seafood recipes (appetizers & salads, entrees, shellfish entrees, pasta, soups & stews, salmon, condiments, sauces & seasonings). The book also contains information about seafood health benefits and nutrition facts, fish trivia and general "how-to guides" (de-bearding, de-boning & filleting, deveining, shucking, and cracking shells).

Larkin Community Cookbook
Compilation of more than 40 recipes mentioned or prepared by characters in the eight-part fictional epic known as the Collective Obsessions Saga by author Deidre Dalton.

Quirky Snacks Cookbook
Contains more than 60 snack recipes from Avocado English Muffins to Yalanchi (Iraqi rice-stuffed tomatoes). FREE!

Recipes-on-a-Budget Cookbook
Features more than 150 recipes for inexpensive meals, including breakfast, lunch, dinner, side dishes, beverages and snacks.

Soups & Stews Cookbook
Contains more than 170 recipes for unique as well as traditional soups and stews from across the globe.