Pine Nuts are delectable little gems that when roasted provide a heavenly treat. They are akin to a guilty pleasure these days because of their astronomical cost, but still remain a much sought-after delicacy in my family.

Usually available in October, one pound of pine nuts used to go for $7.99. Last year they were $19.99 per pound, but unfortunately I did not see any due to harvesting scarcity. Pre-packed and shelled pine nuts for cooking cost roughly $2.50 per 2.25 ounces (or $29 for 27 ounces) because of the intensive labor needed in order to obtain them.
Short of foraging amongst the pine trees myself, I will be sadly devoid of the remarkable taste sensation for this year's autumn and winter seasons.
Admittedly, pine nuts are an acquired taste. I know very few people who enjoy them as I do. However, I like to think others might try pine nuts just once to see what all the fuss is about. Perhaps then my efforts in writing this article will have been well met.

---
CONTENTS:

---

Pine nuts come from the many folds of the pine cone and are part of the Pinaceae family. They are often called "seeds" and have been cultivated for more than six thousand years in Europe, Asia and North America. They contain protein and dietary fiber, but because of their small size would not suffice as a whole meal or even as an appetizer. The shells are difficult to crack, so each torpedo-shaped nut obtained is to be savored.
Primary sources for the nuts come from the Stone Pine (Europe), Korean Pine (Korea), Chilgoza Pine (Himalaya), as well as Siberian Pine, Siberian Dwarf Pine, Chinese White Pine and Lacebark Pine.
The main pine tree species in North America include Colorado Pinyon, Single-Leaf Pinyon, and Mexican Pinyon. Other species, such as Gray Pine, Torrey Pine, and Sugar Pine are also harvested but less frequently.
Some historians believe pine nuts date from Israel in 8th century B.C. The first recorded English-speaking use of pine nuts came in the 12th century in Medieval Britain. According to historians, Ancient Greeks and Romans believed pine nuts contained aphrodisiac properties and preserved them in honey. The Greeks in particular felt Stone Pine was sacred to the God Neptune.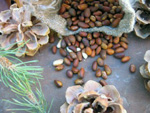 Pine nuts were once a staple food for Indians in North America. Native Americans were known to grind the seeds to make soup. Legend has it that a Pueblo Indian maiden ate pine nuts and became pregnant, later giving birth to Aztec conqueror Montezuma.
Pine nuts are difficult to harvest, which accounts for their high cost these days. The pine cones are often gathered from the trees one at a time, or pickers place a tarp at the base of the tree and knock at the cones in the branches to shake the nuts loose. Once they fall to the ground, the tarp can be gathered up with the nuts inside. There are sometimes 100 nuts per cone.
After gathering, pine nuts are dried for several days and then cleaned. The most common method of cleaning is to use a wire mesh to separate the nuts from the broken cone scale and bracts (also known as chaff).
From the Bureau of Land Management:
Gathering, drying, shaking and cleaning pine nuts makes them ready to eat. Pine nuts are nutritious to eat as is without further enhancement. Their flavor may be improved by soaking the nuts in salted water, then toasting them in an open pan in the oven at a moderate temperature. Another method is to wash the pine nuts in cold water, salt them and put them in a covered roasting pan. Steam the pine nuts in a moderate oven for 15 to 20 minutes, remove the cover and stir until completely dry. Most people crack the outer shell with their teeth and eat the inner nut like eating sunflower seeds.
I've always baked pine nuts to obtain the best favor and texture.
---

Consuming pine nuts straight from the shell has always been my preferred method. The process is painstakingly slow, but the taste is well worth it in the end.
To bake, spread pine nuts on a foil-lined baking sheet to avoid pine tar. Bake at 350-degrees F for about twenty minutes. Allow to cool before eating.
Pine nuts are also available shelled and pre-packaged in most grocery stores, although the cost per jar can often be hard to swallow.
The heavy pine flavor of the nuts might also leave a lingering aftertaste that can last up to three days. This seems to be more prevalent when the nuts are eaten raw rather than roasted. The nuts can be eaten raw, but when roasted the flavor tends to be more pronounced while leaving less bitter aftertaste.
---
Pine nuts are high in monounsaturated fat, and include Vitamins, A, C and D. They also yield pine nut oil, which has a nutty flavor and is said to contain healthy antioxidants.
Pine nut oil is typically pressed from edible seeds coming from several species of pine trees. The oil is generally not used during cooking because of its low smoke-point, but it is often added to dishes at the finish to add the element of it's flavor.
According to a study undertaken by Lipton Nutrition, pine nut oil can "help curb appetite by stimulating the release of cholecystokinin, a hormone that functions as an appetite suppressant."
Other research demonstrates that pine nut oil can also reduce low-density lipoprotein (LDL's).
Dietary Values of several pine nut species:
| | | | |
| --- | --- | --- | --- |
| Type of Nut | Protein % | Fat % | Carbs % |
| P. edulis | 14 | 62-71 | 18 |
| P. monophylla | 10 | 23 | 54 |
| P. cembroides | 19 | 60 | 14 |
| P. quadrifolia | 11 | 37 | 44 |
| P. sabiniana | 30 | 60 | 9 |
| P. strobiformis | 28 | 52 | 7 |
| P. pinea | 34 | 48 | 7 |
| P. sibirica | 19 | 51-75 | 12 |
| P.gerardiana | 14 | 51 | 23 |
Table Data Source: Forestry Department

Click here for pre-packaged pine nut nutrition values.
---

While wonderfully satisfying eaten alone, pine nuts can also be added to other foods to marry the pine flavor with dishes including pasta, fish, vegetables, meats and rice.

Angel Hair with Scallops & Pine Nuts
8 oz. angel hair or capellini pasta
1 LB sea scallops
1/2 tsp. salt
3 TBS butter
2 garlic cloves, finely minced
1/2 C unshelled pine nuts, toasted
1 C Parmesan or Romano cheese
Cook pasta according to package directions or to preference; drain. Clean scallops with a paper towel and sprinkle with salt. Melt the butter in a saucepan; add the scallops and garlic. Cook for three or four minutes turning once, or until scallops are opaque and golden brown. Remove from heat. Toast the pine nuts in a large dry skillet over medium heat, stirring constantly, until they turn a light golden color. Add the pasta and scallops; toss to mix. Sprinkle with cheese and serve.

Baked Pine Nuts
1 LB pine nuts in shell
Aluminum foil
Preheat the oven to 350-degrees F. Place aluminum foil on a cookie sheet. Spread pine nuts on cookie sheet evenly. Bake for about twenty minutes. Allow to cool before eating.

Catfish with Pine Nuts
1/4 C pine nuts, ground (use mortar & pestle)
1/2 C cornmeal
1/4 C flour
1 tsp. salt
1/2 tsp. cayenne pepper
1/4 tsp. paprika
1/4 C vegetable oil
1 LB catfish filets
2 TBS pine nuts
In a bowl, combine ground pine nuts with cornmeal, flour, salt, cayenne pepper and paprika. Heat vegetable oil in a large skillet over medium heat. Dredge the catfish fillets in cornmeal-flour mixture. Pan-fry filets for about four minutes on each side, or until fish is opaque. Sprinkle with additional pine nuts before serving.

Chicken & Pine Nut Salad
1/2 LB package mixed salad leaves
2 skinless, boneless chicken breasts
3 TBS sunflower oil
6 bacon slices, chopped
4 TBS Russian or Catalina salad dressing
1/2 TBS olive oil
4 TBS pine nuts
Salt & black pepper to taste
Chop the lettuce into bite-sized pieces; place in a large salad bowl, cover with plastic wrap and chill until ready to serve. Clean and dry chicken breasts; slice into long strips. Heat sunflower oil in a wok or a large, non-stick frying pan. Add the bacon and cook over medium heat until browned and crisp. Remove with a slotted spoon; drain on paper towels. Leave the bacon fat in the pan (or wok) with the oil; add the chicken strips and cook over medium-high heat until the meat is no longer pink.
Remove pan from the heat; add salt and black pepper to taste. Stir in salad dressing, mixing well to coat all of the chicken (add more dressing if necessary). Wipe out the pan and add 1/2 TBS olive oil. Heat on medium high; stir in shelled pine nuts. Cook long enough to "toast" the nuts, stirring frequently for about two or three minutes. Stir into the chicken mixture. Take salad bowl from the refrigerator; toss chicken mixture with the lettuce. Serve at once.
1 pkg. (2 LBS) sweet mini bell peppers
1 box (5.6 oz.) Near East Couscous Mix with toasted pine nuts
Olive oil or margarine
Freshly-ground black pepper to taste
Parmesan or Romano cheese
Slice tops off mini bell peppers; set aside. Carefully remove seeds and pinch off white rind from inside the peppers. Rinse peppers under cold water. Place peppers in a steamer or pan of boiling water; cook, covered, for about thirty to forty-five minutes (or until peppers are somewhat tender but not too soft). Cut the edible portions from pepper tops; chop fine and then sauté in olive oil or margarine with black pepper until soft. Set aside. Cook couscous according to package directions. Add sautéed bits of pepper tops; stir. Allow mixture to cool slightly. Place steamed peppers in a glass dish so that they stand upright, leaning one against the other if necessary. Spoon couscous mixture into each pepper until even on top. Sprinkle with Parmesan or Romano cheese. Warm in the microwave for about one minute; serve. Note: Adding salt is not necessary as there is more than enough salty taste in the couscous seasoning packet. Suggestions: For Couscous Mini Bells, try using fresh mini bell peppers from Primetime Produce and the toasted pine nut variety couscous from Near East. *Couscous Mini Bells images (C) Shenanchie.

Green Beans with Pine Nuts
1/4 C pine nuts, toasted
1-1/2 LBS green beans, trimmed & cut into 1/2" pieces
2 TBS lemon juice
2 tsp. Olive oil
Salt & black pepper to taste
Toast the pine nuts in a baking dish in a 350-degree F oven for about three or four minutes, shaking the baking dish frequently. Steam green beans in boiling water or in an electric steamer-cooker until tender. Drain green beans and transfer to a serving bowl. Toss with toasted pine nuts, lemon juice, olive oil, salt and black pepper. Serve.

Judias Verdes con Salsa de Tomate (Green Beans in Tomato Sauce; Spain)
2 TBS olive oil
2 cloves garlic, crushed
2 LBS (5 C) green beans, cut into 1" lengths
1-1/2 LBS canned tomatoes with juice, chopped
1 TBS chives, chopped
Salt & black pepper to taste
1 bay leaf
1 TBS pine nuts
1 TBS lemon juice
In a large cooking pot, sauté the garlic in the olive oil for about two minutes, stirring. Add the beans and cook for about four minutes, stirring constantly. Stir in the tomatoes with the liquid from the can. Add chopped chives, salt and black pepper, bay leaf, pine nuts and lemon juice. Bring mixture to a boil, stirring constantly. Reduce heat to low and simmer for about twenty to twenty-five minutes. Remove and discard the bay leaf. Serve at once.

Marak Tarator (Jewish cold cucumber soup)
3-1/2 C plain yogurt
3/4 C sour cream
3 garlic cloves, minced
6-8 small cucumbers, peeled & finely chopped
1/4 C cold water
Salt to taste
1/4 C fresh dill, finely chopped
1/4 C fresh mint, finely chopped
Crushed walnuts or lightly toasted pine nuts (for topping)
Drizzle of olive oil (for topping)
In a bowl, mix together all ingredients (except for nuts and olive oil). Cover and chill in the refrigerator for several hours. Top with nuts and olive oil before serving. Note: For thicker soup, omit water. Suggestion: Serve with crusty bread.

Pashtida (Jewish Spinach Quiche)
2 TBS butter
2 TBS olive oil
6 TBS white wine (optional)
1 LB fresh spinach, washed & patted dry
Salt & black pepper to taste
1 LB labneh*
2 TBS Tahini
2 eggs, beaten
1/2 C flour
1/2 tsp. baking powder
1/4 C pine nuts (for topping)
Heat the olive oil or half the butter in a large skillet. Add half of the spinach gradually; stir constantly with a wooden spoon. Add half of white wine; season with salt and black pepper. Mix well. Cook until spinach leaves wilt; place spinach in a strainer. Repeat with remaining spinach and wine; season with salt and black pepper. Allow spinach to drain for about ten minutes, and then transfer to a large bowl. Preheat oven to 350-degrees F; grease a baking pan with olive oil. In a bowl, mix together the labneh, Tahini, beaten eggs, salt and pepper. Add flour and baking powder; mix well. Pour evenly into prepared baking pan. In a small skillet, toast pine nuts with a small amount of olive oil over high heat, stirring constantly, until pine nuts turn golden in color. Transfer pine nuts to a plate and blot with a paper towel to remove excess oil. Sprinkle pine nuts on top of spinach mixture in baking pan. Bake in the center oven for about thirty-five minutes, or until mixture sets and top turns golden in color. Remove from oven and allow to stand for about ten minutes before serving. *Note: Labneh is a strained yogurt product available in most Middle Eastern specialty stores.

Pine Nuts in Sugar (Nucibus Pineis Saccharo Conditi; Medieval)
1 C pine nuts, shelled
1 C sugar
Melt the sugar in a clean, dry pan for about ten minutes over medium-high heat. When sugar melts, add shelled pine nuts and stir to coat. Remove pan from heat. Allow to cool before forming the mixture into shapes similar to cylinders. Make each "cylinder" about 6" long and roughly 2" wide. Serve.

Pine Nut Pesto
2 TBS pine nuts, coarsely chopped
2 garlic cloves, peeled
3 TBS extra-virgin olive oil
4 C basil leaves (4 oz.)
1/2 C fresh Parmesan cheese, grated
1/4 tsp. salt
Using a food processor, process the pine nuts and garlic until finely minced. Add olive oil and pulse three times. Then add the basil, Parmesan cheese and salt to the processor bowl. Process until finely minced, scraping down the sides. Toss with cooked pasta. Note: Refrigerate leftovers and use within seven days.

Pokerounce (Medieval bread & honey)
8 oz. honey
Pinch each of ginger, cinnamon, black pepper & nutmeg
Sliced bread
1 TBS pine nuts
Place the honey in a saucepan, and then add the spices. Stir over low heat until the honey and spices are well-blended. Be careful not to let the honey burn. Cool the mixture. Toast individual slices of bread (bread quantity will depend on how much of the honey mix you dollop on each slice). Cut the slices of bread into quarters (either square or lengthwise); lay flat on a plate or cookie sheet. Drizzle honey mixture over toast pieces; place the pine nut kernels upright into the bread so they are erect. Make patterns with the pine nuts, or eat the toast as is.

Spaghetti Squash with Pine Nuts
1 spaghetti squash, halved lengthwise & seeded
1/4 C toasted pine nuts
1/4 C Romano cheese, grated
2 TBS fresh parsley, chopped
2 tsp. butter, melted
Salt & black pepper to taste
Preheat the oven to 350-degrees F. Place squash cut side down in a large baking dish. Bake the squash for about fifty minutes. Using a fork, scrape the flesh from the squash and place in a bowl. Add the pine nuts, cheese, parsley, butter, salt and black pepper; toss to combine. Serve at once.
1 box (5.6 oz.) Couscous Mix with Toasted Pine Nuts (Near East brand)
1/4 C onion, finely chopped
4 large tomatoes, ripe but firm
Olive Oil
Non-stick cooking spray
Preheat oven to 350-degrees F. Prepare couscous mix according to package directions; set aside. Rinse tomatoes under cold water. Cut the top off of each tomato. Remove core from tops and finely chop remaining flesh; set aside. Using a spoon, carefully scoop out tomatoes; turn upside down on paper towels to drain. Discard pulp and seeds. Heat two tablespoons of olive oil in a large skillet over medium to high heat. Add chopped onion and cook until soft, about three minutes, stirring frequently. Add chopped tomato tops; mix well. Reduce heat to low and simmer, about four minutes. Remove from heat and add the prepared couscous. Mix until well blended. Fill tomatoes with mixture, patting down with a spoon to create even tops. Place filled tomatoes in a baking pan coated with non-stick cooking spray. Drizzle olive oil on tomatoes. Bake until tender but still firm, about twenty-five minutes. Serve. Note: Food Fare's recipe for Stuffed Tomatoes is loosely based on the Iraqi dish known as Yalanchi, which uses white rice, raisins and pine nuts as a stuffing for tomatoes. *Stuffed Tomatoes images (C) Shenanchie.

More recipes using Pine Nuts >
---
Popularity of Pignoli (Epicurean)
---
(C) Shenanchie
Reprinted exclusively for Food Fare
"Pine Nuts" was written for entertainment purposes only and expresses the sole opinions of the author. This article is not meant to be a professional chef's essay about pine nuts, but rather an observation about the generalities of pine nuts from an amateur home kitchen.
You are free to use the material in this article as reference, but if you happen to use direct wording from this piece, we would appreciate the credit. Thank you.
To send Shenanchie a comment about Pine Nuts, click here.
Food Fare also provides the e-book edition of Pine Nuts as part of our Culinary Collection. The Kindle and Nook editions contain bonus recipes and information. Click here for more.
---