Thanksgiving 2017

Posted Wednesday, 11/01/17
As 2017 draws to a close, many of us have much to be thankful for (that we're still alive and kicking, for starters) - so join us in celebrating Thanksgiving!
As usual, Food Fare is offering bits about Thanksgiving with seasonal tips, resources and gobs of recipes such as Apple & Sausage Stuffing, Coppa Canapes, Garbanzo Nut Loaf, Grilled Asparagus, Pumpkin-Pecan Pie, Roast Turkey with Hazelnut Stuffing, Spiced Wine, Turkey Pita Pockets, Uncle Pat's Crab Cocktail and much more.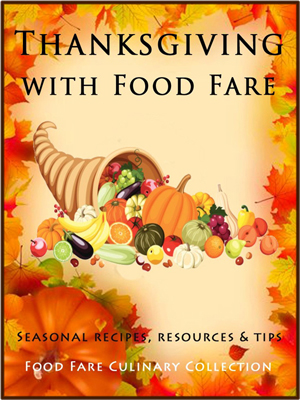 Thanksgiving with Food Fare also contains a brief history of Thanksgiving, along with recipes for appetizers, beverages, desserts, giblets, gravy, side dishes, stuffing, roast turkey and suggestions for leftovers. Also included are recipes for alterative meals such as duck, ham and vegetarian dishes. The book has turkey and ham guides, and links for further study.
Feast your eyes and get ready for the season!


Tags: Food Fare Culinary Collection; Thanksgiving

Send Comment >