H A P P Y N E W Y E A R !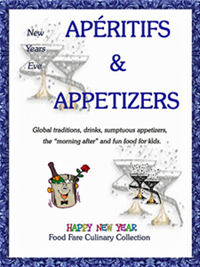 It's time to get in gear to ring in the New Year!
Try some of our New Years Eve-themed recipes to get you started: Arancini (Italian Rice Balls), Artichoke Bruschetta, Aussie Mozzie (Creme de Menthe cocktail), Bombo (spicy rum cocktail), Caudel (Medieval Spiced Beer), Corn Fritters, Couscous Mini Bells, Fondue Neuchateloise (Basic Swiss Fondue), Fried Mushrooms, Ginger Meat Balls, Gougeres (French Cheese Puffs), Gyoza (Japanese Pot Stickers), Hoppel-Poppel (German Eggnog), Keftedes (Greek Deep-Fried Meatballs), Mexi-Dabs (meaty tortilla scoops), Mock Champagne, Mulled Cider, Oysters on the Half Shell, Pigs-in-a-Blanket, Pirate's Last Call (cherry rum cocktail), Pita Pizza Trio, Queimada (Spanish Herbed Wine Punch), Rainbow Trail Mix, Saganaki (Greek Fried Cheese), Sausage-Cheese Balls, Spring Rolls, Stuffed Tomatoes, Sydney Sunrise (Aussie honey-orange drink), and many more. New Year's Eve Recipes >
Our seasonal e-book New Years Eve Aperitifs & Appetizers also contains information about global New Years Eve traditions, typical resolutions, recipes for drinks (alcoholic & non-alcoholic), appetizers, fun food for kids, dishes for the "morning after" and resources for further study. More >
Food Fare: New Years Eve Recipes >

New Years Eve Aperitifs & Appetizers >
HAPPY HOLIDAYS!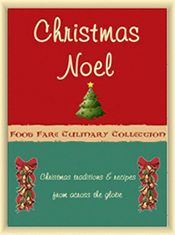 Christmas defines the season of giving, followed in quick succession by a sense of renewal in the New Year. Food is the centerpiece of most holiday gatherings, when families, friends and co-workers come together in the spirit of appreciation and celebration.
Some of our favorite holiday recipes include Almond Hot Toddy, Christmas "Cheer" Egg Nog, Christmas Rum Balls, Classic Shortbread, Cream Brandy, Gingerbread Cake, Glogg (Swedish Mulled Wine), Irish Soda Scones, Kourambiethes (Greek Christmas Cookies), Mailanderli (Swiss Butter Cookies), Nusstorte (Swiss Nut Cake), Peanut Butter Cocoa, Pecan Kisses, Pwdin Nadolig (Welsh Christmas Pudding) and Wassail among many others. More Christmas recipes >
Christmas Noel contains information about the history and origins of Christmas, Santa Claus, the North Pole, Christmas trees, mistletoe, traditions, global holiday greetings, gift-wrapping ideas, seasonal recipes from across the globe and resources for further study. Christmas Noel also appears in article format on the Food Fare web site, where it is available for free. More >