S T. V A L E N T I N E ' S D A Y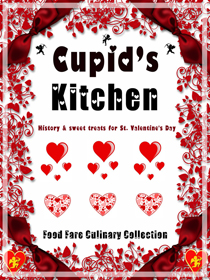 Tis the season of love . . .
Some of our favorite "romantic" recipes include Amaretto, Baklava (Greek Pastry), Black Forest Cake, Boulevardier Cocktail, Bourbon Drops, Chocolate & Strawberries, Cream Brandy, Crumpets, Irish Cream Cake, Khvorost (Russian Sugar Cookies), Lover's Cocktail, Mimosa (Champagne & Orange Juice), Mousse au Chocolat (French Chocolate Mousse), Natillas (Spanish Custard), New York Cheesecake, Orange Julep, Pear Martini, Pecan Kisses, Plums in Port Sauce, Red Velvet Cake, Smulpaj (Swedish Crumb Pie), Spiced Wine, Strawberries Romanoff, Sucre a la Creme (Sweet Milk Squares), Tichenilles (Italian Pepper Biscuits), Tiramisu (Italian Ladyfinger Pie), Venetian Sunrise, Wedding Punch, Zabaglone (Italian Wine Custard), and many more. Valentine's Day Recipes >
Our unique e-book Cupid's Kitchen also contains contains brief histories of St. Valentine and Cupid, St. Valentine's Day traditions and trivia, along with beverage and dessert recipes suitable for any romantic occasion. More >
Food Fare: Valentine's Day Recipes >

Culinary Collection: Cupid's Kitchen >
HAPPY NEW YEAR!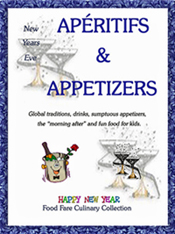 It's time to get in gear to ring in the New Year!
Try some of our New Years Eve-themed recipes to get you started: Arancini (Italian Rice Balls), Artichoke Bruschetta, Aussie Mozzie (Creme de Menthe cocktail), Bombo (spicy rum cocktail), Caudel (Medieval Spiced Beer), Corn Fritters, Couscous Mini Bells, Fondue Neuchateloise (Basic Swiss Fondue), Fried Mushrooms, Ginger Meat Balls, Gougeres (French Cheese Puffs), Gyoza (Japanese Pot Stickers), Hoppel-Poppel (German Eggnog), Keftedes (Greek Deep-Fried Meatballs), Mexi-Dabs (meaty tortilla scoops), Mock Champagne, Mulled Cider, Oysters on the Half Shell, Pigs-in-a-Blanket, Pirate's Last Call (cherry rum cocktail), Pita Pizza Trio, Queimada (Spanish Herbed Wine Punch), Rainbow Trail Mix, Saganaki (Greek Fried Cheese), Sausage-Cheese Balls, Spring Rolls, Stuffed Tomatoes, Sydney Sunrise (Aussie honey-orange drink), and many more. New Year's Eve Recipes >
Our seasonal e-book New Years Eve Aperitifs & Appetizers also contains information about global New Years Eve traditions, typical resolutions, recipes for drinks (alcoholic & non-alcoholic), appetizers, fun food for kids, dishes for the "morning after" and resources for further study. More >
Food Fare: New Years Eve Recipes >

New Years Eve Aperitifs & Appetizers >