A M E R I C A N S U M M E R F A R E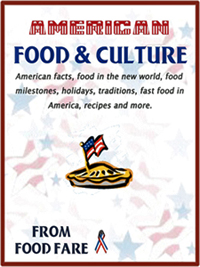 America is a true melting pot of cultures, with one of the world's most versatile and bountiful variety of cuisines. We "have it all" in the United States, even in smaller towns across the nation. The variety of restaurants and types of foods are enormous. Nearly every region has its own style of cooking and specialty dishes.
Some of the recipes include Apple Pie, Bacon, Lettuce & Tomato Sandwich (BLT), Baked Macaroni & Cheese, Biscuits & Gravy, Boston Baked Beans, Charleston Red Rice, Cobb Salad, Denver Omelet, Deviled Eggs, Fried Green Tomatoes, Grilled Cheese Sandwiches, Hawaiian Haystacks, Homemade French Fries, Mulligan Stew (American Hobo Stew), Philly Cheesesteak Sandwiches, Potato Salad, Southern Fried Chicken and Stuffed Potatoes, among many others. More American Recipes >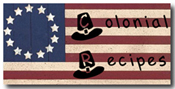 And let's not forget Native Americans and the early colonial settlers with their unique culinary offerings: Acorn Griddle Cakes, Alma Pudding, Blancmange, Corn Custard with Tomatoes, Fried Hominy (Cherokee), Hobnails (cookies), Indian Frybread (Navajo), Indian Meal Pudding, Old Salem Smash (rum cocktail), Pease Pudding (pea soup), Plymouth Succotash, Pork & Apple Pie, Red Flannel Hash, Scrapple (pork loaf), Snow Eggs (Oeufs a la Neige), Martha Washington's Crab Soup, Sunflower Cakes and Yankee Codfish in Gravy, among others. More American Recipes >

Honorable mention must go to hot dogs. July is National Hot Dog Month in the United States, and Food Fare has several recipes to celebrate the occasion: Baguette Franks, Chicago Dogs, Coney Island Dogs, Corn Dogs, Homemade Frankfurters, Montreal Hot Dogs ("Steamies") and Pigs-in-a-Blanket.
Food Fare: American Recipes >

American Food & Culture >
H A P P Y S T. P A T R I C K' S D A Y !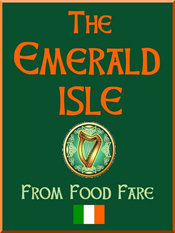 Most Americans with Irish roots typically prepare corned beef and cabbage for St. Patrick's Day dinner, but rarely at any other time during the year. On a surprising note, corned beef and cabbage is not a typical meal in an Irish household. This dish is more of an "Americanism" for the purpose of celebrating St. Patrick's Day. In Ireland, dinner will likely consist of ham or roast lamb, vegetables, potatoes cooked in their jackets, and warm from-the-oven soda bread with plenty of butter. One of the most popular dishes is Bacon & Cabbage with potatoes.
In reality, St. Patrick's Day in Ireland is more of a religious holiday which celebrates the life and teachings of St. Patrick.
However, Food Fare has a collection of Irish Recipes for the season:

Bacon & Cabbage, Beef & Guinness Stew, Boxty (Potato Griddle Cakes), Colcannon (Mashed Potatoes/Cabbage), Drisheen (Black Pudding), Dublin Coddle, Fadge (Potato Bread), Gur Cake, Irish Cream Cake, Irish Dumplings, Irish Omelet, Irish Potato Salad, Irish Shepherd's Pie, Lamb Stew, Leprechaun Casserole, Potato Cakes, Shamrock Egg, Soda Bread, Spice Bread, Whiskey Cookies, and many more. Irish Recipes >
The Emerald Isle also contains a brief history of Ireland as well as the history of Irish food, common Irish dishes, Irish tea, cheese, stout and whiskey, potatoes, Irish traditions, legends, folklore and myths; Irish words and phrases, common slang, Irish recipes, and resources for further study. More >
Food Fare: Irish Recipes >

Food Fare Culinary Collection: The Emerald Isle >