H A P P Y S T. P A T R I C K' S D A Y !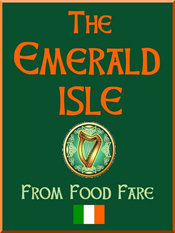 Most Americans with Irish roots typically prepare corned beef and cabbage for St. Patrick's Day dinner, but rarely at any other time during the year. On a surprising note, corned beef and cabbage is not a typical meal in an Irish household. This dish is more of an "Americanism" for the purpose of celebrating St. Patrick's Day. In Ireland, dinner will likely consist of ham or roast lamb, vegetables, potatoes cooked in their jackets, and warm from-the-oven soda bread with plenty of butter. One of the most popular dishes is Bacon & Cabbage with potatoes.
In reality, St. Patrick's Day in Ireland is more of a religious holiday which celebrates the life and teachings of St. Patrick.
However, Food Fare has a collection of Irish Recipes for the season:

Bacon & Cabbage, Beef & Guinness Stew, Boxty (Potato Griddle Cakes), Colcannon (Mashed Potatoes/Cabbage), Drisheen (Black Pudding), Dublin Coddle, Fadge (Potato Bread), Gur Cake, Irish Cream Cake, Irish Dumplings, Irish Omelet, Irish Potato Salad, Irish Shepherd's Pie, Lamb Stew, Leprechaun Casserole, Potato Cakes, Shamrock Egg, Soda Bread, Spice Bread, Whiskey Cookies, and many more. Irish Recipes >
The Emerald Isle also contains a brief history of Ireland as well as the history of Irish food, common Irish dishes, Irish tea, cheese, stout and whiskey, potatoes, Irish traditions, legends, folklore and myths; Irish words and phrases, common slang, Irish recipes, and resources for further study. More >
Food Fare: Irish Recipes >

Food Fare Culinary Collection: The Emerald Isle >
HAPPY VALENTINE'S DAY!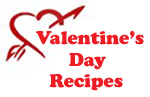 Try some of our Valentine's Day-themed recipes:
Amaretto, Baklava (Greek Pastry), Biscotto Pignoli (Italian Pine Nut Cookies), Boulevardier Cocktail, Chocolate & Strawberries, Cream Brandy, Lover's Cocktail, Mimosa (Champagne & Orange Juice), New York Cheesecake, Pecan Kisses, Plums in Port Sauce, Red Velvet Cake, Spiced Wine, Strawberries Romanoff, Tiramisu (Italian Ladyfinger Pie), Venetian Sunrise, Zabaglone (Italian Wine Custard) among many others. More Valentine's Day recipes >
Cupid's Kitchen contains contains brief histories of St. Valentine and Cupid, St. Valentine's Day traditions and trivia, and dessert recipes suitable for any romantic occasion. More >
Food Fare: Valentine's Day Recipes >

Culinary Collection: Cupid's Kitchen >