Holiday Greetings
Falling at the end of November every year, Thanksgiving is regarded as a feast of plenty. The holiday was not founded with overindulgence in mind, but rather to mark harvests in the New World.
After a hard and devastating first year in America, the autumn harvest planted by settlers was plentiful in 1621. They had bounties of corn, fruits and vegetables, along with fish packed in salt and meat smoked-cured over fires. A day of thanksgiving was proclaimed, which was shared by all colonists and neighboring Native American Indians.
The custom of celebrating after the harvest continued. During the American Revolution, a day of national thanksgiving was suggested by the Continental Congress. In 1817, New York adopted Thanksgiving Day as an annual custom. In 1863, President Abraham Lincoln appointed a national day of thanksgiving. Since then, each American president has issued a Thanksgiving Day proclamation, usually designating the fourth Thursday of each November as the holiday.
The custom of presidential turkey pardons was officially instituted in 1989, whereby the President of the United States pardons a pair of turkeys at the White House, thus sparing them slaughter. The lucky turkeys get to spend the rest of their days on a farm rather than as someone's Thanksgiving dinner.
However, Thanksgiving with Food Fare is not a history lesson but rather a culinary adventure littered with recipes, traditions, tips and links to even more lore about the glorious holiday dubbed Thanksgiving.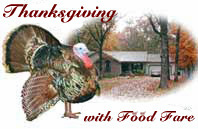 Feast your eyes and get ready for the season.