"The King's Table" Information
* ESTIMATED COMPLETION: Christmas 2023.
* Storyline, estimated completion date and book cover art may be subject to change. Check back for updates.

Click here to go to the official website for "In the Shadow of the King."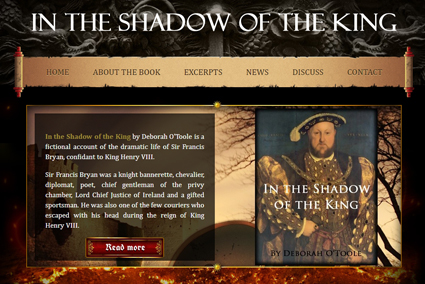 Book Details & Extras

Book cover image: Original painting by Hans Holbein (1498-1543). The image is in the public domain in its country of origin and other countries and areas where the copyright term is the author's life plus 100 years or fewer. The image is also in the public domain in the United States because it was published (or registered with the United States Copyright Office) before January 1, 1925. Reproduction for use on a book cover is therefore also considered to be in the public domain in the United States.

Hampton Court kitchen logo: Joy of Museums (2016). Licensed under the Creative Commons Attribution-Share Alike 4.0 International license, which allows users to adapt, copy, distribute and transmit the work with attribution. Edited by Webs Divine.
*Book cover & logo design: Webs Divine.