The six ghosts portrayed in "The Crypt Artist" reside in the dilapidated complex of loft apartments known as the Ramsey Building in SoHo, New York. Apart from Malachy O'Leary, who is a fictional character of my own making, and his pet feline Hissy, based on a real cat who is still very much alive, the phantoms in the storyline are all built on real artists from the past.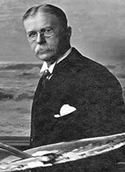 *Howard Russell Butler (1856-1934): Founder of the American Fine Arts Society, Howard Russell Butler also attended Princeton University. He was proud of his career as a patent lawyer, which ceased in 1884 when he decided to focus solely on art. He considered one of his best achievements to be a solar eclipse painting that he did for the U.S. Naval Observatory. He also did a portrait of Andrew Carnegie, and went on to help construct Carnegie Lake, contributing his time and effort on behalf of Princeton's rowing team. He also spent time in France, but eventually retired to a house by Carnegie Lake, where he died in 1934, at the age of seventy-eight. To the present day, Howard's paintings - mainly of seascapes - are still on exhibit at places such as the Metropolitan Museum of Art, the Smithsonian American Art Museum, and the American Museum of Natural History.
While attempting to follow the life history of the ghost artists in "The Crypt Artist," I did take some liberties with the personal life of Howard Russell Butler. This was done to provide a clink in that seemingly irascible armor of his, to give him a vulnerability otherwise not found in his ghostly mein. The real Howard Butler and his wife never lost a child to drowning in Carnegie Lake. Brief mention of the incident was my fictitious dose into his background, but only for storyline purposes.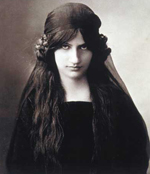 *Jeanne Hebuterne (1898-1920): A French-born artist who became more well-known for her love affair with painter and sculptor Amedeo Modigliani. They were introduced to each other by Russian sculptor Chana Orloff in 1917, when Amedeo was thirty-three and she but a nineteen-year-old innocent. Her love for him was all-consuming. It was a love and fervor that never died, even after he passed from the earth to be followed by her own demise. They fell in love quickly, to the dismay of her family, who viewed the older artist as nothing more than a "debauched derelict." Within a short time Amedeo and Jeanne moved in together, and she became the principal subject of his art. His first one-man art gallery showing, at the Berthe Weill Gallery in Paris, was closed by the chief of police a few hours after its opening because of outrage over the featured nudes of Jeanne. Amedeo and Jeanne moved to Nice, and then Cagnes-sur-Mer a year after meeting, where Jeanne gave birth to their same-named daughter. They returned to Paris some months later, where they lived in an apartment on Rue de la Grande Chaumiere. Amedeo's health began to decline, due to tuberculosis and long spells of severe drinking. After his death in 1920, Jeanne was inconsolable, leading her to end her own life - and that of their unborn second child - the day after her beloved's death. They were buried separately for many years, due to her family's disapproval of Amedeo, but were finally reunited in death when her remains were moved to rest beside him at Pere Lachaise Cemetery in 1930. His epitaph read "Struck down by death at the moment of glory," while on Jeanne's headstone were the words: Devoted companion to the extreme sacrifice. Her most well-known work was a portrait named Death.

*Hissy O'Leary (1944-1954): Feline pet of Malachy O'Leary. She wandered into his life in 1944 as a tiny kitten, a stray from the streets. Hissy followed Malachy everywhere. After Malachy died, the cat lost the will to live. She wandered the building, refusing to eat or take comfort from anyone. No one could catch her. She eventually came back to Malachy's flat, where she laid down in front of the door and died. One of the other tenants at the time found her little body, stiff with eyes open, and her mouth twisted into a permanent hiss. Rest assured, the real Hissy is very much alive and her name suits her to a tee.

*Malachy Michaleen O'Leary (1888-1954): FICTIONAL CHARACTER (based on the late Mick Egan from Birr, County Offaly, Ireland). Malachy O'Leary was a minor 20th-century poet. His three published collections include "Verses from Dubh Linn," "Limericks on the Lam" and "Poems from Blackpool," most of which but not all were off-the-cuff poems with occasional sad prose thrown into the mix. Malachy was born in Dublin, Ireland, the youngest of five sons. His parents were Patrick O'Leary, a bricklayer, and Mary Donovan O'Leary. After one year at Trinity College in Dublin, where he studied literature, Malachy migrated to the United States, settling in New York City. After the relative success of his three published works, O'Leary faded into obscurity. Once in awhile he would do poetry readings at various pubs and bookstores in SoHo, but for the most part remained reclusive. He never married. His closest companion for many years was a stray cat named Hissy, who he rescued as a kitten from the streets of SoHo. O'Leary was known as an eccentric character in the SoHo area. One oft-repeated story of his antics included riding a bicycle down Broome Street with his cat Hissy sitting in a basket on the handlebars, where he greeted everyone that passed by with "Very well, thank you" even when they were not addressing him. He allegedly also made a habit of having conversations with lampposts on the same street, usually after a night of heavy drinking. O'Leary died in 1954 at the age of sixty-six. He was buried at the Marble Cemetery on Second Street in New York City.

*Philip Hugh Padwick (1876-1958): Born and bred in England, Padwick enjoyed a certain degree of fame in his lifetime. Two of his works, Harbour Scene and Scene in Yorkshire, were once on exhibit at the Royal Academy of Arts. He was known for his oil landscapes and impressionistic creations, often using bold colors. His most memorable work, by most standards, was Looking Toward Chanctonbury. Chadwick lived to the ripe old age of eighty-two, dying peacefully at his home in Midhurst, West Sussex in 1958.

*John Quidor (1801-1881): During his lifetime, Quidor went about his artistic career in relative obscurity. For a time, he made a living in his native New York by painting banners, and doing decorative work for fire stations and on steamboats. His two most well-known portraits became Rip Van Winkle and The Headless Horseman Pursuing Ichabod Crane. He lived in Chicago for a time, but died in New Jersey about a month before his 81st birthday. It wasn't until 1942, sixty-one years later, that his work was rediscovered at a showing put on by the Brooklyn Museum of Art. Fond of macabre elements with a dash of humor, some of Quidor's other well-known pieces included Dancing on the Battery, Dorothea, Money Diggers and The Voyage from Communipaw to Hell Gate.
* * * * *
* * * * *
Author's Note: Even though I created Malachy O'Leary, his demeanor and snappy repartee made me laugh on more than one occasion, as did the testy grumblings of Howard Russell Butler. There were many late nights of writing where I would simply collapse with hysterics at the antics of my fictional characters. It's a good thing the people around me are so patient, for the most part understanding the writing process and giving me indulgences to do so at my own obsessive pace and style. You know who you are, and thank you.
* * * * *
Image Credits: Howard Russell Butler (Smithsonian Institution/USA; no restrictions). Jeanne Hebuterne; image source (Galerie Andre Roussard, Montmartre); date of image is unknown. The image is in the public domain in the United States of America, which applies to U.S. works where copyright has expired because its first publication occurred prior to January 1, 1923. Hissy O'Leary (photo by Deborah O'Toole, used with permission). Malachy O'Leary (aka Barry Fitzgerald), from unknown, image in public domain. Philip Hugh Padwick = English actor Leslie Howard (1893-1943). Image from Wikipedia via PHOTOFEST publicity photo from GONE WITH THE WIND. Image originally created on 31st December 1938; classified as "public domain." (Re Wikipedia: This work is in the public domain because it was published in the United States between 1923 and 1977 and without a copyright notice). John Quidor = Mexican singer and actor Diego Boneta (1990-present). Image from BUZZ FEED.