More Scribbles
Deborah also writes short-story Juvenile Fiction and darkly abstract Poetry, and is the author of a series of articles and book reviews for Ambermont Magazine and Class Notes. She has also penned a collection of historical essays now available in multiple e-book formats.
Using the pseudonym Shenanchie O'Toole, she writes for Food Fare. She is author and co-editor of 13 cookbooks, along with more than 40 titles in the exclusive Food Fare Culinary Collection.
She posts frequent entries at her primary web log Irish Eyes. She also has pages at Amazon, Book Bub, Bookshop.Org, Facebook, Instagram, Linked-In, Pinterest, Reedsy, Scribd, Twitter and You Tube.
For information about Deborah's future projects, go to In the Works.
Personal Tidbits
Deborah was born in Greenwich, Connecticut, USA. She has also lived in Texas (Newgulf), California (Danville, near San Francisco); Arizona (Tucson), Nevada (Reno), Washington (Spokane) and Utah (Salt Lake City), among other US cities. She currently resides in the mountain west with her significant other, Jerry Dalton, and their two cats: Hissy "The Kid" Dalton and Dusty "Boyo" O'Toole-Dalton.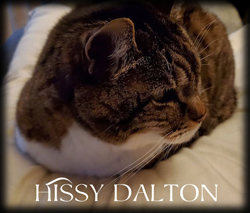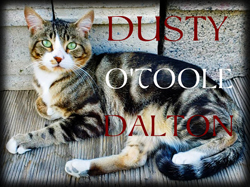 Her favorite authors and writing influences include Evelyn Anthony, Maeve Binchy, Elizabeth Byrd, James Clavell, Cleo Coyle, Dorothy Daniels, Diane Mott Davidson, Ken Follett, Marilyn Harris, Susan Kay, Stephen King, Norah Lofts, Mary M. Luke, Compton Mackenzie, Colleen McCullough, Clarissa Ross, Marilyn Ross, Edward Rutherfurd, Bertrice Small, Anya Seton, Barbara Taylor Bradford, Leon Uris, Alison Weir, Oscar Wilde and Kathleen Woodiwiss. Her favorite poem is "The Raven" by Edgar Allan Poe, as read by actor Christopher Walken.
A lifelong Tudor and Irish history buff, Deborah likes to browse through the local paperback exchange in her free time. She enjoys needlepoint, growing her own herbs and experimenting in the kitchen on whim. She also undertakes web design and development.
Between bouts of writing, reading and web design, she likes to relax by playing computer games. Favorites include several variations of solitaire (Absolute Yukon, Australian Patience, Chinese Solitaire, Hardwood Hearts, Idiot's Delight, Klondike, Precedence, Pyramid, Russian Solitaire, Russian Twist and Spades), time-management (Claire's Cruisin' Cafe, Cooking Dash, Diner Dash, Lovely Kitchen, Rescue Team, the "Turbo" series: Fiesta, Pizza and Subs), and hidden object games (Mystery Case Files).