For blog entries posted between 2011-2017, visit Deidre's previous blog at Blogspot.


Bloodletting & Dorian Gray
I spent most of the weekend writing for Bloodlust, mostly from my handwritten notes. There was also a copious amount of research involved, as I'm currently honing in on symbolism to be a semi-staple throughout the Bloodline Trilogy.
I recently received a paperback copy of Maiden, Mother & Crone by D.J. Conway, which is proving to be a valuable tool in my attempt to piece together a "triple goddess" feel to the collective storylines in the trilogy. Basically, the Bloodline Trilogy is about a uniquely magical yet ominous journey of three women through time. To that end, I'm assembling hints of the triple goddess myth in the books. The premise is certainly not the primary focus in the storylines, but is rather alluded to on occasion.
None of the books in the Bloodline Trilogy are about witchcraft or pagan lore, but the representation of Maiden, Mother & Crone (and the various symbols associated with them), reminded me of the rather intricate and uniquely magical blood ties between my three female characters. Each woman symbolizes a different moon phase and stage of life. In pagan lore, they also rule different realms such as earth and the waxing moon (Jenny), the underworld and full moon (Kate), and the heavens and waning moon (Noel).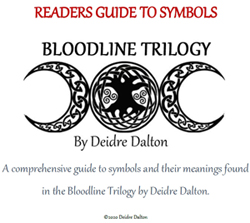 I've also developed an offline document to keep track of all the symbolism present (see photo above), which I will make available once all three books have been published, probably by 2021.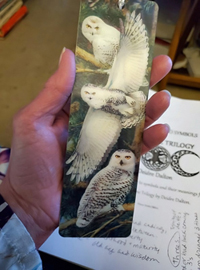 It's difficult to see in the photo above, but the bookmark I'm using for research into triple goddess symbolism for the Bloodline Trilogy has three 3-D owls as the background. Very apropos, without intention.
By Saturday afternoon, I was worn to a frazzle. Deciding to take a much-needed break, I sat in front of the television and watched the 1945 film version of The Picture of Dorian Gray. The book of the same name by Oscar Wilde is one of my favorite reads, so it was a no-brainer that I would enjoy the film. I had already seen the 1973 film version of the book (and in fact have the DVD in my library), but I have to say I preferred the older movie overall.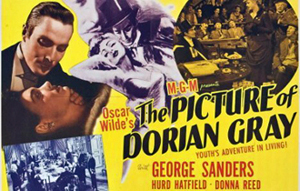 The remainder of Saturday went as expected. It was spent writing Bloodlust, and reading about the triple goddess, late into the night.
* Send Comment *
Posted by Deidre Dalton on Sunday, 9th February 2020
---
Bloodline Doodling
Now that Glinhaven has been put to bed (so to speak), I'm back onto the Bloodline Trilogy. I'm taking up where I left off in Bloodfrost with part two of the trilogy, Bloodlust. There are roughly fifty pages of Bloodlust already written, but because there was such a long gap between writing Bloodfrost and its sequel (when I was finishing The Crypt Artist and Glinhaven), I had to familiarize myself with every aspect of the storyline again. Hence, I spent last weekend re-reading Bloodfrost and the maiden pages of Bloodlust.
There are scattered bits of symbolism throughout the trilogy. If you've already read Bloodfrost, you are aware of the bells and half-moons both main characters Noel and Pim see etched in candle glass. They do have specific connotations, which are revealed later in the book. The symbols are actually hints into the future. Of course, neither Noel nor Pim know it at the time. It's only when the hints come to fruition that they link them to the symbols, and after the mysterious character Shoji warns Noel about what could happen. More symbols are planted near the end of Bloodfrost. They do spill over into Bloodlust, where their meanings are made increasingly evident as the story moves on.
The symbol refresher proved to be a worthwhile endeavor. To that end, I'm currently writing Bloodlust and hope to have it finished by late summer or early autumn of this year.
While I was boning up on on symbolism over the weekend, I took an hour or so and played with the book cover designs for both Bloodlust and Blood & Soul. Sometimes, but not often, the quickest excursions into cover design brings about the best results. And so it did this time, luckily. Special thanks goes to artist Anton Belovodchenko for the wonderful photos, on which each cover was based.
And, as I've said before, writing as "Deidre Dalton" requires a different mindset:
Writing as myself, and then switching to my literary pseudonym Deidre Dalton, entails a complete change in mindset. While most of my books are generally descriptive, those written under the "Deidre" hat tend to swim in much darker waters. This isn't to say I possess split personalities, but the creative direction requires a definite swing in focus.
The books I've written under the "Deidre" moniker go deeper into the dark side of various personalities, and some of the actions undertaken thereof require a balance between good taste and blatant sexuality and/or violence. If I were to psychoanalyze myself, I'd have to say this all began in my teen years when I wrote murky verses and followed my morbid train of youthful thought, as evidenced in my book of poems known as Torn Bits & Pieces.
The fictional result of my shadowy ventures has become the Collective Obsessions Saga, to be followed closely by the Bloodline Trilogy. When the trilogy is complete sometime next year, I'm not sure where I'll head wearing my "Deidre" hat. Anyone's guess is as good as mine, but rest assured Deidre Dalton will make a reappearance, in one way or another.
Wish me luck. ;)
* Send Comment *
Posted by Deidre Dalton on Tuesday, 21st January 2020
---