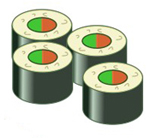 Japanese food is my second favorite cuisine, following Mexican fare. Some of my oft-eaten Japanese dishes include Chachan (Fried Rice), Chicken Teriyaki Bowl, Gyoza (Pot Stickers), Kareh Raisu (Curry Stew), Misoshiru (Miso Soup), Okonomi Yaki (Vegetable Pancakes), Shogayaki (Ginger Pork), Spring Rolls, Tempura (Seafood & Vegetables), Tsukemono (Pickled Vegetables), Yakisoba (Deep-Fried Noodles with Pork) and Yakitori (Skewered Chicken).
However, I've avoided traditional sushi for many years because the idea of eating raw fish makes my stomach churn in nauseous protest. In the same light, whenever I watch television cooking shows whereby the chef unveils various dishes which might include middle-raw tuna or bloody beef or lamb, I reach for the remote to quickly turn the channel. Needless to say, prime rib holds no allure for me.
Then one day - quite recently in fact - I decided to go ahead and make my own sushi using fully-cooked fish. I simply can't be the only person on the face of the planet repulsed by the thought of eating raw fish, so why not assemble the dish my own way? Most of the recipes for sushi contain ingredients I do like, although uncooked they lose their appeal for me.
I'm now a huge fan of sushi - with fully-cooked goods, of course...


Note: For the stand-alone Avocado & Shrimp Sushi recipe, click here.
---
For my first foray into preparing homemade sushi, I selected the following ingredients:
(Above, left to right): Shenanchie's Sushi Ingredients and Avocado & Shrimp Sushi with Avocado & Salmon Sushi.
Click on images to view larger sizes in a new window.
2 C uncooked jasmine rice

1/4 C seasoned rice vinegar

1 tsp. wasabi (Japanese horseradish) or prepared wasabi sauce

1 avocado, peeled & mashed

1-1/2 TBS fresh cilantro, chopped fine

24 large shrimp, cooked, peeled, deveined & halved crosswise

6 nori (roasted seaweed squares)

12 chives

12 cucumber strips (from peeled & seeded cucumber)



Prepare rice according to package directions. Stir in rice vinegar; cover and allow to cool to room temperature. In a bowl, combine cilantro and shrimp; toss well. In another bowl, combine wasabi and mashed avocado; set aside. Place one nori sheet (shiny-side down) on a bamboo sushi mat covered with plastic wrap. With moist hands, pat some of the rice mixture evenly over nori, leaving a one-inch border on one long end of nori. Spread one tablespoon of the avocado mixture over rice. Arrange eight shrimp, two chives and two cucumber strips along the bottom third of rice-covered nori. Lift edge of nori closest to you; fold over filling. Lift bottom edge of sushi mat; roll toward top edge, pressing firmly on sushi roll. Continue rolling to top edge; press mat to seal sushi roll. Let rest, seam-side down, for about five minutes. Unroll from sushi mat; slice sushi roll crosswise into eight pieces. Repeat procedure with remaining nori, rice mixture, shrimp mixture, avocado mixture, chives and cucumber. Recipe makes about six servings. Suggestion: Serve with Wasabi Sauce.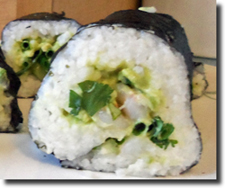 (Above): Avocado & Shrimp Sushi. Click on image to view larger size in a new window.
Shrimp Tips: Pull tails from cooked shrimp while still partially frozen; the tails should come off easily and quickly. Once the shrimp has completely thawed, cut in half lengthwise before adding to sushi roll.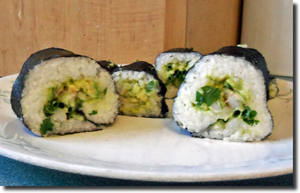 (Above): Avocado & Shrimp Sushi. Click on image to view larger size in a new window.
Salmon Variation: Instead of using shrimp, try poaching a salmon filet (4 oz.) in about 1/2 cup of water seasoned with salt, dill weed and a few drops of lemon juice for about fifteen minutes. Drain salmon and allow to cool before removing silver skin. Slice salmon into strips and use in sushi roll in place of the shrimp.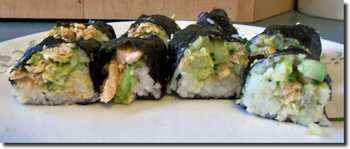 (Above): Avocado & Salmon Sushi. Click on image to view larger size in a new window.
---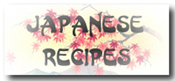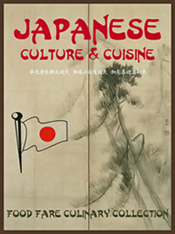 Culinary Collection: Japanese Culture & Cuisine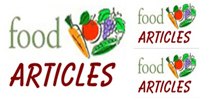 ---
(C)2015-2018 Shenanchie O'Toole.
Reprinted exclusively for Food Fare.
*Shenanchie's Sushi images (C) Shenanchie O'Toole (2015). Click on images to view larger sizes in a new window.
*Page Design Fonts: Shojumaru and Japanese Style (header); Japanese and Angelina (Shenanchie's signature).
"Shenanchie's Sushi: No Raw Fish Allowed!" was written for entertainment purposes only and expresses the sole opinions of the author. The article is not meant to be a professional chef's essay about sushi, but rather an observation about the generalities of sushi prepared with cooked fish from an amateur home kitchen.
Feel free to use the material in this article as reference, but if you use direct wording from the piece, we would appreciate the credit. Thank you.
To send Shenanchie a comment about Shenanchie's Sushi: No Raw Fish Allowed!, click here.
"Shenanchie's Sushi: No Raw Fish Allowed!" also appears in Food Fare's Global Seafood Cookbook.
---