---
Spring is in the air, as the saying goes, which brings about Easter and greens in the garden.
However, it's mostly about eggs - and more eggs. Try some of our "eggy" dishes, such as Denver Omelet, Egg-in-the-Hole, Irish Omelet and more >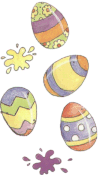 ---
Are you an epicurean who fancies food-related computer diversions? Check out our links to time management games that can be downloaded and played at home. I've tried most of them, and they're great fun. Some of the games also include printable recipes.

---
Food Fare often receives e-mail from reader's who have something to say about the web site, the recipes or the food articles. Every valid message or question is answered.

---

Welcome to Food Fare and the ninth edition of our newsletter, Food Fare Notes.

Spring is a favorite season among many people. It signals the end of winter, seeming to bring with it a breath of fresh air. Flowers begin to bloom, gardens are planted, and migrating birds return to roost.
Easter and eggs go together, naturally. I've never been much of an egg lover so to speak, especially as a youngster. It took me many years to get over my "egg revulsion," and even now I cannot abide runny or "dippy" eggs. They have to be fully cooked before I'll even have a look at them.
I do have a few favorites, however: Deviled Eggs, Crempog Las (Welsh Omelet), Denver Omelet, Fresh Herb Omelet, Irish Omelet, Mexican Scrambled Eggs, Scrambled Eggs (Basque), and Tortilla de Patatas (Spanish Potato Omelet).
Happy egg-hunting from our house to yours...
---

Fiction in the Kitchen
As many of you are already aware, I've recently been blessed with several publishing contracts for my fiction work. Writing under the pseudonym of Deidre Dalton, eight novels will be released this year as part of the Collective Obsessions Saga.
I've also put together a cookbook comprised of recipes from fictional characters in the family saga. As meals were mentioned in storylines in the various novels, I formatted the recipes to be featured in a cookbook. The result is a collection of more than forty dishes in all foodstuff categories.
The Larkin Community Cookbook is available in Kindle and Nook editions, and as a PDF (Adobe Acrobat) download.
---

On the Harbor
Try this recipe from the Amber Whale Tavern:
Crab Cakes

2 slices white bread, crusts removed

2 TBS mayonnaise

2 tsp. Old Bay Seasoning

1/8 tsp. cayenne pepper

2 tsp. parsley

1/2 tsp. prepared yellow mustard

1 egg, beaten

1 LB fresh lump crabmeat

Break bread into small pieces. Mix in mayonnaise, Old Bay, parsley, mustard and egg. Stir in crabmeat. Shape mixture into patties. Broil for ten minutes without turning, or fry until golden-brown on both sides.
---

Until Next Time
Because I'm getting eight books ready for release in 2011-12, the next update at Food Fare might not occur until late summer. Editing and writing requires a great deal of focus, and it's where my head has to be for the foreseeable future.
Check back for updates and other news as summer approaches, or come by our page at Facebook to leave a comment. Food Fare also has a place to rant and rave on Twitter.
You might be surprised by what you find...
Happy Cooking from Food Fare,