For blog entries posted between 2011-2017, visit Deidre's previous blog at Blogspot.


Collective Poetry
Just after I finished writing Megan's Legacy in 2011, final book in the Collective Obsessions Saga, I penned a bit of poetry to act as an "intro" of sorts to the novels.
This was the final version: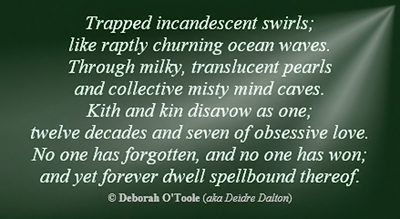 Related blog post: Collective Sigh (03/16/2011).
* Send Comment *
Posted by Deidre Dalton on Saturday, 24th February 2018
---
Characters in the Kitchen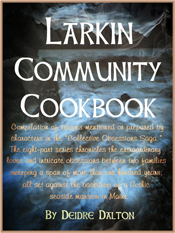 The Larkin Community Cookbook is a compilation of more than forty recipes mentioned or prepared by characters in the Collective Obsessions Saga.
A number of fictional characters found in the Collective Obsessions Saga are exceptional cooks.
It begins with first family chef Claude Mondoux (The Advent), and carries on with the ill-fated Nicholas Bertrand (Quixotic Crossings), much-beloved Mae Jensen (The Twain Shall Meet) and the drunken Cora Ann Hogan (The Twilight).
The diabolical Amber Whale chef Jack Sansovino (Hearts Desires) is also a dab hand in the kitchen, where he brews more than seafood specialties.
Various members of the Larkin family have culinary talent as well, including Shannon, Derek and Dana, who prepare mouth-watering dishes for family and friends. Derek (Hearts Desires) also becomes a professional chef and opens his own elegant restaurant in Larkin City, known as The Silver Tassel.
Before her grisly demise, Carly O'Reilly (Enthrallment and The Keeper's Journal) whips up delectable dishes for her highly successful Harbor View Catering Company, where she also sells homemade foodstuffs.
Try this recipe from the Amber Whale:
CRAB CAKES
2 slices white bread, crusts removed

2 TBS mayonnaise

2 tsp. Old Bay Seasoning
1/8 tsp. cayenne pepper

2 tsp. parsley

1/2 tsp. prepared yellow mustard

1 egg, beaten

1 LB fresh lump crabmeat
Break bread into small pieces. Mix in mayo, Old Bay Seasoning, parsley, mustard and egg. Stir in crabmeat. Shape the mixture into patties. Broil for ten minutes without turning or fry until golden-brown on both sides.
Click here to view a complete list of recipes in the Larkin Community Cookbook (PDF, 727 KB). The complete book is available at Amazon, Barnes & Noble and Kobo Books.
NOTE: The Larkin Community Cookbook is currently being updated with even more recipes. The new edition should be ready for release by Spring 2018 or shortly thereafter.
* Send Comment *
Posted by Deidre Dalton on Monday, 12th February 2018
---