For blog entries posted between 2011-2017, visit Deidre's previous blog at Blogspot.

New Blog Digs
For many years I kept a blog at Blogspot (from 2011 to 2017), but recently decided to move new posts to my website rather than deal with formatting restrictions imposed by Blogspot. The restrictions quite often made me avoid adding new entries, as even simple posts became a long, difficult process just to get the visuals I wanted. I didn't want to make the time for it. Needless to say, I'd rather be writing.
The blog format here on my website will be simple. If anyone would like to send me a comment about a specific blog post, please use my contact form. I respond to all legitimate messages within a day or two.
The new blog will feature news about book releases, novels I'm currently writing and developing, and my thoughts in general. Feel free to join me!
* Send Comment *
Posted by Deidre Dalton on Thursday, 11th January 2018
---
Facebook Pages
Facebook suspended my "Deidre Dalton" account (which I'd had for 7 years) because I don't have valid ID in that name.
Rest assured, I'm a real person who is easily found online because of my books. "Deidre Dalton" is a writing pseudonym, common in my world.
Anyway, I've added the books written as Deidre Dalton under my real name Deborah O'Toole (which also entails changing hundreds of links on various other websites). Click on the pictures above to go to their relevant Facebook pages.
What a royal pain!
* Send Comment *
Posted by Deidre Dalton on Thursday, 11th January 2018
---
Happy New Year!
From my house to yours . . .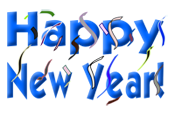 Have a healthy, happy and prosperous new year!
* Send Comment *
Posted by Deidre Dalton on Monday, 1st January 2018
---