For blog entries posted between 2011-2017, visit Deidre's previous blog at Blogspot.


Collective Complete
Megan's Legacy, 8th and final book in the Collective Obsessions Saga, was released today in paperback. Thus completes the journey for both e-book and soft cover editions of all eight novels, bringing the story to a close. It's almost bittersweet in a way, as there is nothing left I can add to the series. It is truly finished.
That being said, I would like to thank Terrie Lynn Balmer and James Wason from Club Lighthouse Publishing for their patience and putting up with me for all these years.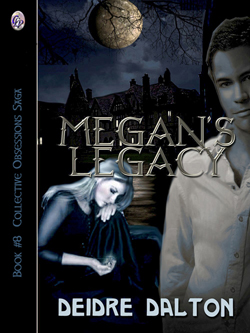 Just prior to the release of Megan's Legacy, the character renditions page of the Collective Obsessions website was also complete. This gives a snapshot of many of the main characters in all eight books, with graphics included.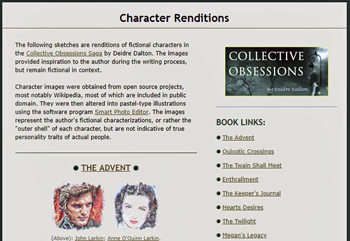 I'm sometimes asked if I have any "favorite" characters within the eight books. The truth is, I do have a few characters I'm rather partial to. One that tops the list is Kevin Larkin, a blustering giant of a man with a great sense of humor. One scene with Kevin (that cracked me up even during the initial writing) was just prior to his wedding to the long-suffering Mariko Woods. The scene appeared in chapter fifteen of book #7, The Twilight:
EARLIER IN THE DAY, Liam snuck Kevin into the mansion, coordinating their entry with Shannon when Mariko was safely ensconced in her own room. The two brothers made a beeline for Kevin's bedroom on the fourth floor to prepare for the wedding. Shannon left them a tray with a decanter of cognac and two snifters in a thoughtful gesture, hoping it would help keep Kevin calm on his special day.
But Kevin declined a drink. "I had enough hooch last night, thanks. I want to be clear-headed when I lumber across the foyer in my twinky get-up."
"It wasn't much of a bachelor party," Liam complained. "Twenty men crammed into the keeper's cottage, taking shots of whiskey and playing poker. The Coven would have been better."
"Yeah, but it would have been much harder to pry me out of The Coven," Kevin grinned. "This way we're close at hand and semi-sober." He pointed to the garment bag draped over his bed. "Grab my clothes, will you? Let's get this over with. I'm warning you, though, if you laugh at me in my get-up, I'll hurt you really bad. I'd like to see your bony little ass in one of these outfits."
Liam tried to keep a straight face as he helped his brother slip into the black montsuki haori full-length kimono, split between the legs, and baggy pants known as hakama. Kevin tucked a white sash into the pants, and then admired the Larkin family crest embroidered on the breast pocket of the kimono.
"Look at me, will you?" Kevin snorted. "I waited fifty-eight years to get married, and it's come to this. I'm going to face Father Hunter and all our guests looking like an Irish samurai. All I need is a sword swinging at my side to appear the part."
And do I have a favorite book in the series? Yes I do. The Twain Shall Meet remains my absolute favorite. Originally titled Larkin when I wrote parts of it years ago, the characters and other content bring back many fond memories of a former life.
While The Twain Shall Meet (book #3) remains my personal favorite in the series, Megan's Legacy runs a very close second. What am I saying? I love all the books!
Happy Holidays from my house to yours.

* Send Comment *
Posted by Deidre Dalton on Friday, 30th November 2018
---