News
Sunday, June 19, 2022:
"BLOOD & SOUL" RELEASED BY CLUB LIGHTHOUSE
Blood & Soul by Deidre Dalton was released by Club Lighthouse Publishing on June 19, 2022. The novel is available in multiple formats from Club Lighthouse, while the paperback can be purchased on Amazon.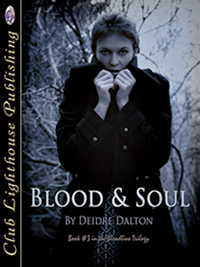 Blood & Soul is Book #3 of the Bloodline Trilogy.
Check Deidre Dalton's Twitter page for ongoing updates.
---