Halloween Revisited

Posted Tuesday, 10/15/19
Seven years ago, Food Fare celebrated Halloween with a special, ghoulishly-themed issue of Food Notes. However, some things never change - such as our love of the season and its spooky holiday.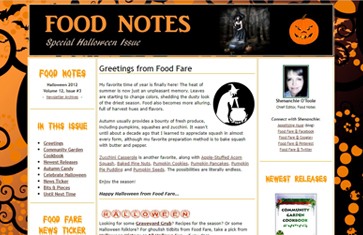 Everything about the newsletter is still relevant today, including the recipes, age-old lore, pumpkin bits and hints of the macabre. Not to mention our second most popular book in the Culinary Collection, known as Halloween Cuisine (second only to Medieval Cuisine).
Happy Halloween to one and all! It is perhaps the most unofficial "holiday" during the year, but certainly the most enjoyable.


Tags: Culinary Collection; Halloween

Send Comment >