Blueberry Fixation

Posted Sat, 01/25/20
I absolutely love anything with blueberries in it, including muffins (see below), pancakes, preserves, yogurt, cookies, and syrup.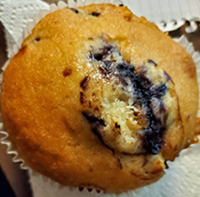 (Above): Blueberry Muffins. Click on image to view larger size in a new window.

Blueberry Muffins

1/2 C butter

2 C flour

1-1/4 C sugar

2 eggs

1/2 C milk

2 tsp. baking powder

1/2 tsp. salt

1-1/2 C fresh blueberries (sub with canned or frozen)

Oil (for greasing muffin pan)
Preheat oven to 350-degrees F. Grease and flour muffin pan or use paper liners. Sift flour, baking powder and salt together and set aside. Cream butter and sugar until light and fluffy. Add eggs and beat well. Add milk and flour mixture together; beat until combined. Stir in blueberries. Fill muffin cups 2/3 full. Bake for twenty-five to thirty minutes. Allow to cool slightly before serving.
Very yummy, and very moist. Give it a whirl!


Tags: Breakfast; Bread & Cookies; Food Photos

Send Comment >