Hot Italian Sausage Tomato Sauce

Posted Saturday, 07/15/17
As I've said many times before, beef prices are out of control. I rarely purchase it anymore, thinking of ways to make beef-related dishes without using actual beef. I'm partial to hot and spicy foods, so I decided to make a tomato sauce in the same vein without using beef.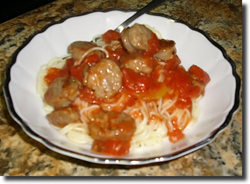 Hot Italian Sausage Tomato Sauce

Click on image to view larger size in a new window.
Italian sausage (five lark links) costs about $3.99, while ground beef is roughly $6.99 per pound. It was no contest.
Hot Italian Sausage Tomato Sauce

1 pkg. (18 oz.) hot Italian sausage (about 5 large links)

1 can (14.5 oz.) diced tomatoes with juice

1 can (8 oz.) tomato sauce

1/4 C water

2 cloves garlic, peeled & minced

1 tsp. dried basil

1 tsp. dried parsley flakes

Pinch of mint flakes

Black pepper to taste

Olive oil

1/2 pkg. (8 oz.) angel hair pasta or preferred pasta

Partially freeze sausage so that it will keep it's shape when cut. Slice sausage into about 1/2"-thick pieces. Drizzle olive oil into a cooking pot over medium-low heat. Stir in minced garlic. Add sausage pieces. Cook, stirring occasionally, until sausage is thoroughly cooked. Add diced tomatoes with juice, tomato sauce and water. Stir. Add basil, parsley, mint flakes and black pepper. Stir. Simmer for about forty minutes, stirring occasionally.




Serve sauce on cooked angel hair pasta, or any other pasta you prefer. Freeze unused sauce portions.
The sauce is fabulous.
To be honest, I now prefer it to the traditional tomato sauce with beef meatballs.


Tags: Dips, Dressings & Sauces; Food Photos; Italy; Leftovers

Send Comment