News
Wednesday, October 23, 2019:
NEW INTERVIEW WITH DEBORAH O'TOOLE (AKA DEIDRE DALTON)
A new interview with Deborah O'Toole (aka Deidre Dalton) is now available at NF Reads.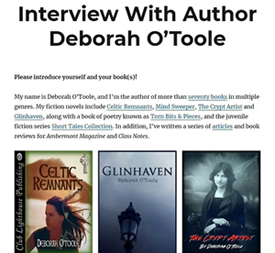 In the interview, Deborah discusses her books, what inspires her to write, dealing with creative block, reviews, and her advice to other writers, among other topics.
Click here to read the interview in full.
---