Egg Essentials

Posted Monday, 10/14/19
I was "iffy" about eggs for a long period of time during the early 2000s. My repulsion lasted for quite awhile, mainly brought on by undercooked eggs or the runny substance that was the result thereof. The yolk was the focal point of avoidance, and remained thus for many years.
However, since 2018 I've gradually stepped back into a consumption of eggs. I recently began using the Egg Essentials Poached Egg Maker, which has made all the difference in the world. I don't normally hawk kitchen appliances, but the egg poacher is easy to use, and even easier to clean. I often make a variety of plain poached eggs (cooked hard as it's my preference), and a scrambled mixture with chopped mushrooms, onions, fresh baby spinach, cubed ham and topped with cheddar cheese. The scrambled mix puffs-up similar to a soufflé. It's truly divine.
Poached Scramble - (Recipe for use in Egg Essentials Poached Egg Maker)

4 large eggs

1/4 C milk

1/4 C fresh button mushrooms, finely chopped

1/4 C onion, finely chopped

1/4 C ham, cubed small

1/4 C baby spinach leaves, finely chopped

Cheddar cheese, finely shredded

Lawry's Seasoned Salt, to taste

Black pepper to taste

Nonstick cooking spray

In a bowl, beat eggs together with milk, Lawry's Seasoned Salt and black pepper. Stir in mushrooms, onion, ham and spinach. Mix well. Pour by 3/4 cup measurement into poaching cups lightly coated with nonstick cooking spray. Place about 1/4-inch water on the bottom of a round cooking skillet. Place cooking rack in water, and then place poaching cups into fitted slots. Cover skillet and place skillet over medium heat on stovetop. Steam gently for about four to six minutes, or until eggs are set. Mixture may rise during cooking process. A minute before the end of cooking time, sprinkle tops of egg cups with finely shredded cheddar cheese. Slide cooked eggs from poaching cups onto a large plate or platter; serve.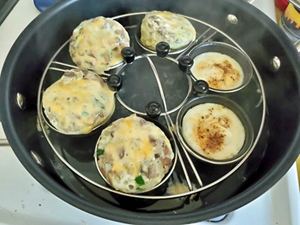 The possibilities are endless, quite literally.
I would highly recommend the Egg Essentials Poached Egg Maker. The little poaching cups contain nonstick surfaces, and the cooked eggs slide right out when cooked. It makes for a quick, easy meal that is enjoyable to boot.


Tags: Food Photos; Kitchen Gadgets & Appliances

Send Comment >