Luscious Leftovers Cookbook

Posted Fri, 03/27/20
The Luscious Leftovers Cookbook is now available from Food Fare.
The cookbook contains 175 recipes prepared with leftovers, such as appetizers, beverages, entrees, pasta and rice, poultry, salads and sandwiches, side dishes, soups & stews, sweets and treats, and vegetables.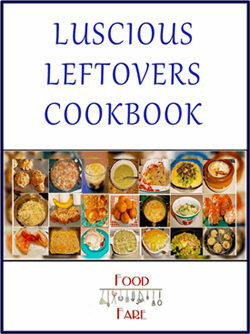 The Luscious Leftovers Cookbook is available at Amazon. The book also comes in Adobe Digital format, which can be obtained by clicking here. More than 60 food images and other graphics are available in the Adobe Digital edition of the Luscious Leftovers Cookbook.
To view a complete list of recipes, click here (PDF, 645 KB). The recipes are also available online. Go to the Food Fare Leftovers recipe page >
Learn more about the "Luscious Leftovers Cookbook" from Food Fare >


Tags: Cookbooks

Send Comment >/a>