Welcome tea lovers . . .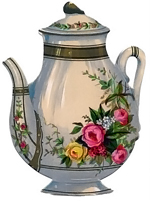 It is said tea was discovered in 2737 BC when Chinese Emperor Shen Nung sat beneath a wild tea tree while his servant boiled water. A leaf from the tree wafted into the boiling water, so the Emperor decided to sample the brew. Thus the wonder we know as tea was essentially born.
Tea time is perhaps one of the last vestiges of civilization, the last bastion of a cultured society. It is the ultimate in good company and conversation and last but not least, one of the most refreshing rituals one is apt to ever experience.
Although I have a copious amount of Irish blood flowing through my veins, there is that one part of me that has always been enchanted by English tea traditions.
If you dislike tea, read no further. What follows is a glorification of the beverage, along with its customs, traditions and several exquisite tea-time recipes. This is a personal essay, and is by no means a reference point. At the end, I've provided a few links to tea-related sites that I found to be especially original and informative.
So sit back and relax - and have a cuppa.
Read more >