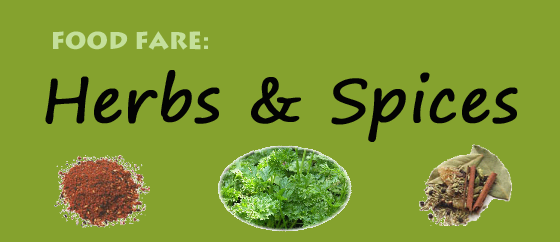 Herbs and spices often define a recipe, giving distinction to an otherwise bland meal or specialty dish...
Through the years, Food Fare has gathered a great deal of information about herbs and spices.
Definitions: Herbs are the aromatic leaves of plants without the woody stems, which grow in temperate areas. Spices are seasonings gleaned from the bark, buds, fruit or flower parts, roots, seeds or stems of various aromatic plants and trees.
Storage: Herbs and Spices should be stored in air tight glass jars in a cool, dark place for no more than six months. To keep fresh herbs fresher longer, rinse them and lightly wrap in paper towels. Place wrapped herbs in plastic bags and refrigerate.
We have compiled guides for various Herbs and Spices, along with Herb Substitutions and Spice Substitutions for quick reference.
Have a look at the section called Herbs for Thought for additional ideas.
Last but not least, we have provided alternatives to salt (Pass the Salt); information about Pepper and an extra bit about storage and uses for Parsley.
Don't forget to visit our homemade Herbs & Spices recipe page.
Let's get started!