Kitchen Meanderings

Posted Tuesday, 07/11/17
There's nothing like meandering in the kitchen at the beginning of the week. I had a free Tuesday, so I tried to make the most of it. First, I put together a quick Denver Omelet. By "quick," I mean mixing eggs, milk, cheese, diced ham and green bell pepper without adding any seasonings. All of it came from leftovers in my fridge.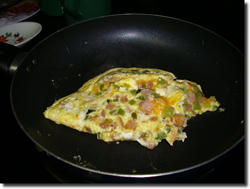 "Quick" Denver Omelet

Click on image to view larger size in a new window.
And then I went about assembling this:
Chicken Seasoning (KFC Secret Blend)

1 TBS rosemary

1 TBS oregano

1 TBS ground sage

1 tsp. powdered ginger

1-1/2 tsp. thyme

3 TBS packed brown sugar

3 TBS dry minced parsley

1 tsp. pepper

1 TBS paprika

2 TBS garlic salt

2 TBS onion salt

2 TBS chicken bouillon powder

1 pkg. Lipton tomato soup mix

Pulse all ingredients in a blender, or stir with a spoon by hand until thoroughly blended. To coat chicken add 1 ounce of mix to 1 cup of flour in a large plastic bake. Add chicken and shake to coat.




Store leftover seasoning in a sealable container in a dry place.
The omelet and the seasoning blend have nothing to do with one another, but that was my day in the kitchen.


Tags: Breakfast; Food Photos; Herbs & Spices; Leftovers

Send Comment