Meat Loaf Sandwiches

Posted Friday, 06/30/17
I'm in the midst of putting together a "leftovers" cookbook, so I'm often experimenting with remnants from weekly meals. I'd never eaten a meat loaf sandwich before, which of course drove me to try my own recipe.
This was the result: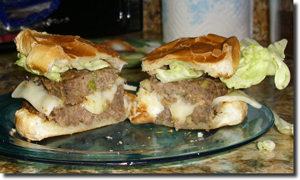 Click on image to view larger size in a new window.
I have to say it's one of the best sandwiches I've ever had. I toasted hamburger buns for my first foray, but this sandwich would also go well on any other type of bread.
Click here for my recipe.


Tags: Food Photos; Leftovers; Sandwiches

Send Comment >