Samples from:
"ANNE BOLEYN"

It is generally believed that Anne Boleyn was born on or around May 1, 1501 at a manor house in Blicking, Norfolk, England. She was the second daughter of Thomas Boleyn and Elizabeth Howard. Many still claim Anne was born at Hever Castle in Kent, although it has been proven she did not move there until after her birth.
Thomas Boleyn came from basic "common" stock, although his mother was daughter to the Irish Earl of Ormonde. Anne's mother Elizabeth was the daughter of Thomas Howard, Earl of Surrey. Thomas Boleyn would later be created Viscount Rochford, a title given to him by Henry VIII after Anne was firmly ensconced at court.
Anne possessed what was called a "sixth finger" or a "second nail" on one of her hands. In later years, this physical "deformity" would be used against her, implying that the presence of the digit was somehow supernatural or evil. Anne's other prepossessing qualities included black eyes, long dark brown hair (which she often interlaced with jewels) and a petite stature. She had a thin face with high cheekbones and a pointed chin. Although not beautiful in a conventional sense, Anne had a vivacious personality and fluid movement that attracted people to her, especially men...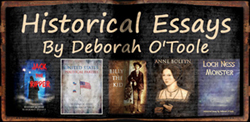 < Back to Historical Essays by Deborah O'Toole