News
Thursday, July 11, 2019:
"BLOODFROST" SIGNED WITH CLUB LIGHTHOUSE
Bloodfrost by Deidre Dalton has been signed with Club Lighthouse Publishing. The novel will be released in both electronic and print editions in 2019. New book covers will be designed by T.L. Davison.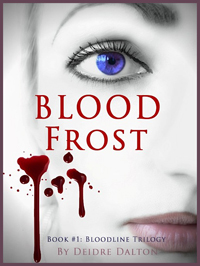 Bloodfrost is Book #1 of the Bloodline Trilogy.
Check Deidre Dalton's Twitter page for ongoing updates.
---