News
Saturday, February 11, 2017:
"THE TWAIN SHALL MEET" AVAILABLE IN PAPERBACK
The Twain Shall Meet, third novel in the Collective Obsessions Saga, is now available in print. The paperback edition contains more than sixty pages of extra content, including new scenes and dialog, along with a new book cover.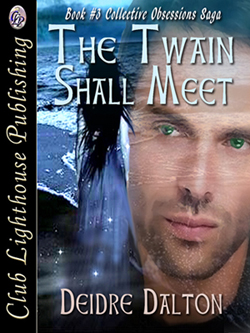 The release of The Twain Shall Meet follows the first two titles in the family saga, The Advent and Quixotic Crossings.
Under a new contract with Club Lighthouse Publishing, all eight novels in the Collective Obsessions Saga will become available as print-on-demand (POD) books on Amazon.
Check Deidre Dalton's Twitter page for ongoing updates.
---