Cooking in the Wild

Posted Wednesday, 07/17/19
It's been more than seven months since I've posted a blog entry, and for that I apologize. Life became very busy at the end of last year, and I've literally been burning the candle at both ends. However, life is a bit more settled now - and I'm happier on a personal level.
A few weeks ago, I made my first trip to Soapstone Basin in Utah. The place is gorgeous, and best of all, completely out of cell phone range. We stayed in a trailer - more like a real home on wheels - and did several hours of ATV riding on the trails. One day, we managed to make it to Lightening Ridge (see photos below).
There was only one mishap during the three-day jaunt. One a rockier part of the trail to Lightening Ridge, my rig went over a deep mud hole. Before I could maneuver out of it, I went out of the vehicle and landed flat on my back on the rocks and mud. Aside from a few bruises and gobs of mud covering my entire body, I was unhurt.
We had a variety of meals during our trip, some make-ahead meals (pasta with hamburger and tomato sauce), granola bars and several egg dishes. One morning I cooked scrambled eggs with ham cubes, Potatoes O'Brien, onion and cheddar cheese. It was quite tasty, and actually served as two meals.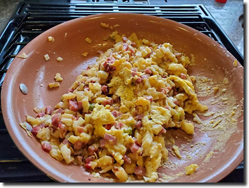 I would recommend pre-cooking meals prior to a camping trip, whether you're taking a well-equipped trailer or not. It saves time, and energy. Cooking over a campfire or on a grill is also preferable, which can be accompanied by prepare-ahead cold foods such as potato or macaroni salads.
Our next trip is tentatively scheduled for near the end of July, this time in the central Uinta Mountains area.


Tags: Food Photos

Send Comment >